How are older Canadians embracing gaming technology?
UOIT research group exploring connection between gaming and healthy living habits
March 30, 2015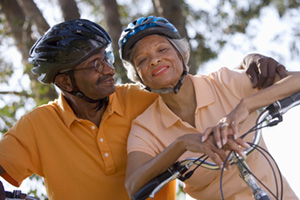 Young Canadians have grown up in a world where advanced technological devices, services, and games have always played an integral part in their lives.
Anyone under the age of 30 will never know what life was like before the Internet came along. Before the widespread use of smartphones and social media, daily life and communication were very different. While the younger generation embraces a constantly connected lifestyle, older adults are often seen as less receptive to newer technologies and the evolution of an increasingly tech-savvy world.
But don't sell older Canadians short when it comes to actively using technology in their lives, says Dr. Lennart Nacke, a gaming researcher at the University of Ontario Institute of Technology (UOIT). Dr. Nacke leads UOIT's Human-Computer Interaction (HCI) Games Group, which is examining how assistive playful technologies are enhancing the lifestyle of older adults.
"Digital technologies and game design are useful for more than just entertainment," says Dr. Nacke, an Assistant Professor with UOIT's Faculty of Business and Information Technology. "We can use game technology to design applications that create not only enjoyment, but opportunities for productivity, self-improvement and the pursuit of healthy lifestyles."
Dr. Nacke and his PhD student Dennis Kappen have published studies regarding the use of game design to engage older adults in fitness activities. Both are working with external partner Vintage Fitness (Toronto, Ontario) to create a gamified online community called Spirit50 that allows older adults to receive fitness programs, guidance and support based on their personal health goals. Their collaboration was supported by a research grant from the Natural Sciences and Engineering Research Council of Canada (NSERC) Engage Research Innovation Grant.
"Based on their personal health goals and current fitness level, Spirit50 members receive optimal exercise recommendations and fitness planning tools," said Dr. Nacke. "We hope that Spirit50 will provide deeper insight into what motivates older Canadians to exercise regularly and in turn, demonstrate how technology can help everyone lead healthier lives."
About Spirit50
The Spirit50 website catalogues a large collection of exercises related to various aspects of physical fitness. Based on the relative desired intensity level and overall health goal selected by the website user, a fitness schedule with specific exercises and beneficial tips is recommended. Integrated tools allow users to track their progress and access instructional photos and videos to assist them in meeting their fitness objectives.
Patterns of exercise routines are categorized based upon a collection of fitness goals, such as reducing joint pain, improving cognitive health, and increasing mobility. The exercise 'roadmaps' on the site are comprised of approximately 1,200 various daily routines involving several hundred different exercise variations. Currently, the site integrates a custom database to manage the content of the exercise programs.
Media contact:
Bryan Oliver
Communications and Marketing
University of Ontario Institute of Technology
905.721.8668 ext. 6709
289.928.3653 (cell)
bryan.oliver@uoit.ca