UOIT recognized for having a positive impact in the local community
March 17, 2015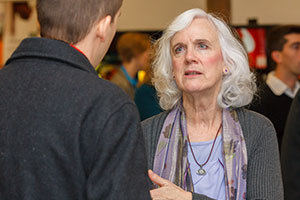 The University of Ontario Institute of Technology's (UOIT) efforts to improve mental health awareness and help revitalize the local community are acknowledged in a new report by the Council of Ontario Universities (COU).
Ontario's Universities: Transforming Communities, Transforming Lives includes a spotlight on how the university has expanded its campus to downtown Oshawa over the past seven years. This move has helped revitalize the city's downtown core with more than 2,600 students and staff visiting 58 restaurants, as well as dozens of shops and services in the area.
The same COU report salutes the university's efforts to help police officers identify signs of people experiencing mental health issues. Through a grassroots community partnership with the Durham Regional Police Service, Dr. Wendy Stanyon of UOIT's Faculty of Health Sciences created a series of police simulation videos, which are used to educate and train thousands of police officers to recognize possible indicators of mental illness and respond appropriately.
A second video series was recently created to raise awareness about elder abuse, which brought in more community partners. Together, the simulations involved partner­ships with the Ontario Provincial Police, Durham Region, and several seniors' groups. The videos are now a mandatory component of training for several police services. A number of organizations across Canada as well as abroad are also expressing interest in implementing the video series.
The COU also recognized Dr. Stanyon in a new summary of mental health initiatives being undertaken by post-secondary institutions in Ontario and by mental health organizations across North America.
Given the prevalence of mental illness and based on the belief that mental health awareness has become a required life skill, Dr. Stanyon has led the development of Mindsight. Created in 2010 in collaboration with Dr. Bruce Ballon, a psychiatrist affiliated with the Centre for Addiction and Mental Health, Mindsight is an online educational resource to promote mental health awareness, reduce stigma, and teach users about some basic strategies and resources for supporting individuals living with mental illness.
As part of 2014 Mental Health Awareness Week in Canada, the university renewed its challenge to faculty and staff to become Mindsight-certified. University President Tim McTiernan, PhD, also spoke about mental health issues and the impact of UOIT's unique Mindsight mental health awareness program.
To date, more than 3,400 people have become Mindsight-certified. Mindsight takes about two hours and can completed in multiple sessions.
Further community outreach by Dr. Stanyon:
In addition to recently presenting Mindsight to the Project Read Literacy Network in Kitchener-Waterloo and a webinar with Community Literacy of Ontario in Barrie, Dr. Stanyon will meet with literacy organizations this spring in Niagara Region, Hamilton and in Chatham-Kent.
In April, Dr. Stanyon will also meet with the administration and School Community Council at Innisdale Secondary School in Barrie.
---
Media contact
Bryan Oliver
Communications and Marketing
Ontario Tech University
905.721.8668, ext 6709
289.928.3653
bryan.oliver@uoit.ca