UOIT researcher helping enhance safety standards at energy and nuclear facilities
April 10, 2015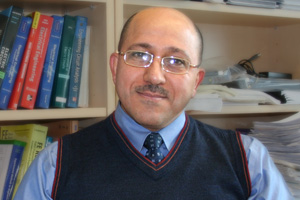 Canada's nuclear power facilities have a proven track record for being among the safest in the world. Systems are highly monitored and stringently regulated. But this doesn't mean nuclear engineering researchers should not strive to enhance existing safety standards and system reliability.
University of Ontario Institute of Technology (UOIT) researcher Dr. Hossam Gaber is an expert in safety engineering and its applications in energy and nuclear facilities and infrastructures. Through a current research collaboration with Ontario Power Generation (OPG) and Bruce Power, he is helping develop innovative solutions to advance nuclear power plant safety.
"Through research, we are building further confidence in safety levels with a model-based adaptive structure called Fault Semantic Network (FSN)," said Dr. Gaber, Professor, UOIT Faculty of Energy Systems and Nuclear Science (cross-appointed to the Faculty of Engineering and Applied Science). "Our computer models use real-time utility data to simulate problems or 'faults' at nuclear power plants. By understanding potential fault possibilities, we can determine how best to prevent them in real plants. At the same time we can also find ways to enhance system performance."
Fault, or failure, means any condition rendering a component or system incapable of operating within its specified performance parameter limits. This is similar to how you would define, say, a 'faulty' pump or valve.
Dr. Gaber's research group has focused case studies on the simulation of steam generation and steam pressure faults.
"We believe usage of FSN for fault troubleshooting in CANDU reactors is an important contribution to the energy industry's philosophy of continuous improvement," said Dr. Gaber. "We need to explore new methods and enhancements to existing methods. This analysis will also substantially reduce other factors such as the probability of human error."
Dr. Gaber promotes energy and nuclear process safety in both the national and international communities. The next international workshop he is co-organizing (on functional safety and its use in energy, nuclear and production facilities) will be hosted by the Canadian Standards Association in Mississauga, Ontario in early May.