UOIT researchers investigate new drug targets to combat parasitic diseases
Faculty of Science students working alongside researchers on a global health problem
April 28, 2015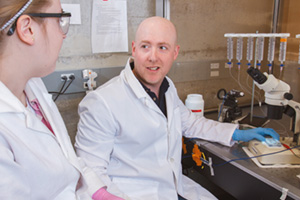 They are the most abundant multicellular organisms on the planet. But in many parts of the world, they are a major problem.
Scientists call them nematodes. Commonly known as roundworms, nematodes are typically microscopic organisms that live in soil and water. They play a key role in breaking down organic matter.
But not all nematodes are beneficial: many forms are parasitic, and they pose a serious threat to human health and domestic animals. Parasitic nematodes can cause infections in a wide range of human organs, including the intestines, lungs and lymphatic tissue. Children are particularly vulnerable.
Human parasitic infections are prevalent in developing countries, in regions where there is substandard sanitation and water quality, and poor access to health care. The impact on the economic output of affected nations is enormous.
Almost one billion of the world's 7.3 billion people (almost 14 per cent of the human population) are infected by parasitic nematodes. The World Health Organization says 120 million people alone are coping with lymphatic filariasis, a nematode-related disease that causes enlargement of the lower extremities, resulting in severe disability and social stigma.
To help combat this global health concern, Faculty of Science researchers at the University of Ontario Institute of Technology (UOIT) are exploring the development of new anti-parasitic drugs known as nematocides.
"Over the past several years, we have been working on a chemical biology approach to isolate possible nematocidal drug targets," said Dr. Sean Forrester, Associate Professor, UOIT Faculty of Science. "Working with UOIT organic chemist Dr. Jean-Paul Desaulniers, we have made good progress in synthesizing molecules we hope will lead to the development of potent drugs that would target only the parasite and not the patient."
Since parasitic nematodes have developed resistance to several current nematocides, Dr. Forrester says the discovery of new drugs will provide vital new therapeutic options.
"We are focusing on a group of receptors called ligand-gated chloride channels. These have good potential as nematocidal targets because there are several types that are present in nematodes but absent in humans."
Drs. Forrester and Desaulniers recently co-authored a research article on a type of ligand-gated chloride that was published in the prominent British Journal of Pharmacology. The other co-authors are a mix of UOIT graduate an undergraduate students. 
"Being part of this research has allowed me to gain extremely valuable laboratory skills and vital insight into the possibilities of a research-oriented career," said Sebastien Robert, a fourth-year Bachelor of Science student who will receive his UOIT degree at Convocation in June. "It was truly the most demanding, yet rewarding work of my undergraduate degree. I would do it all over again with absolutely no hesitation."
"Our research efforts have provided an incredible opportunity for UOIT undergraduate students to apply their knowledge and academic skills toward solving a serious international problem," said Dr. Forrester. "The Faculty of Science is proud to share such hands-on learning experiences with students because it means they will be fully prepared to excel in the workplace and also be future research leaders."
"Like many of our professors, Dr. Forrester is working on both fundamental, cutting-edge scientific research and its practical application for solving real-world problems," said Dr. Greg Crawford, Dean, UOIT Faculty of Science. "The fact that even undergraduates get a chance to participate in such projects, sometimes in life-changing ways, is testament to the kind of professors and programs we have here at UOIT." 
---
Media contact
Bryan Oliver
Communications and Marketing
Ontario Tech University
905.721.8668, ext 6709
289.928.3653
bryan.oliver@uoit.ca