UOIT and Durham College welcome families to Science Rendezvous May 9
Aspiring scientists of all ages invited to check out popular campus tradition
May 4, 2015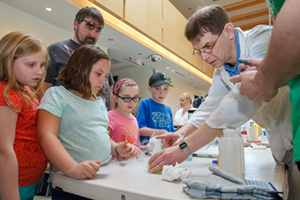 The University of Ontario Institute of Technology (UOIT) and Durham College (DC) will open their doors on Saturday, May 9 as they co-host Science Rendezvous 2015.
The free admission event promotes science awareness for all ages and is part of the nationwide Science Rendezvous celebration being held at universities and colleges all across Canada.
"Science Rendezvous is a great way for everyone to recognize that science is not only a part of everyday life, but it can be fun as well," said Annette Tavares, Science Rendezvous Co-organizer and Senior Lecturer with UOIT's Faculty of Science.
"Families from all over the community come out to enjoy the hands-on learning experiences at Science Rendezvous. They also get the chance to learn about neat scientific concepts from all of the amazing scientists at our joint college and university campus," said Craig Thompson, Science Rendezvous Co-organizer and Science Lab Technologist with DC's School of Science & Engineering Technology.
What: Science Rendezvous 2015
When: Saturday, May 9, from 10 a.m. to 3 p.m. (best time for media: 11 a.m. to 1 p.m.)
Where: UOIT and DC joint campus location, 2000 Simcoe Street North, Oshawa, Ontario
Price: Free
The day-long event includes dozens of hands-on activities such as INVENTours and Science Cavalcade; Science Jeopardy; and mini-workshops. Fun interactive experiments include Candy Bombs, Dry Ice Rainbows, Glowing Crystals and Magic Monster Slime, to name only a few. Explore LEGO Robotics and help solve the Stolen Cookie Mystery in the Forensic Fun Zone.
When you arrive, pick up a copy of the Science Rendezvous program and your official Science Rendezvous passport. Kids can collect activity stickers and stamps for their passport as they visit each station. Children must be accompanied by an adult.
Check the Science Rendezvous 2015 website for a full list of activities and directions to campus (Science Rendezvous parking is free). BBQ food and refreshments are available for purchase onsite.
Links
Media contacts:
Bryan Oliver
UOIT Communications and Marketing
905.721.8668 ext. 6709
289.928.0268 (cell)
bryan.oliver@uoit.ca
Krista Luxton
DC Communications and Marketing
905.721.2000 ext. 2333
905.259.8483 (cell)
krista.luxton@durhamcollege.ca