UOIT celebrates its donors and partners
June 26, 2015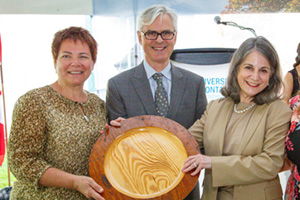 A powerful storm may have swept through Oshawa, Ontario the night before, but it didn't dampen the spirits of more than 300 donors, partners and friends who enjoyed blue skies, green lawns and friendly conversation at the University of Ontario Institute of Technology (UOIT). The university opened the gates to Windfields Farm lands for a special celebration on June 23.
Guests mingled around the historic barns and stables. They watched results pour in from a special Environment Canada meteorological supersite and tested for blood and finger prints with representatives from the university's Forensic Science program. Donors spoke directly with students, many of whom benefit from scholarships and bursaries, and saw first-hand the impact their generosity has had on the university.
"Thanks to your support, we can grow our impressive campus and graduate innovators, researchers and entrepreneurs who will shape our world," said President Tim McTiernan, PhD. "Thank you for celebrating with us the legacy of E.P. Taylor and our brilliant future. And make no mistake – that brilliant future is our students."
Special guest Noreen Taylor, daughter-in-law of the late E.P. Taylor, wife of the late Charles Taylor and president of Windfields Farm Limited, shared some of her memories of the farm and commented on the beliefs Mr. Taylor held dear – ones she believes the university embodies. She remarked that the land had nurtured generations of equine excellence and would now nurture generations of excellence in human innovation. She was presented with a wooden platter carved from a barn door that once graced the property, a special memento from President McTiernan on behalf of the university. An inscription on the back reads, "In recognition of the Taylor Family's foresight and generosity in securing a brilliant future for UOIT."
As the guests departed, they explored the land, which is home to the Faculty of Science's Crime Scene House and the future development site of the Campus Master Plan. Created along with Durham College, the final version will be released later this summer and help inform future growth of its shared campus for years to come.
More information about the event can be found at uoit.ca/winnerscircle.