The Weather Network puts ACE's climatic wind tunnel capabilities to the test
National exposure for university's multi-purpose testing facility
July 7, 2015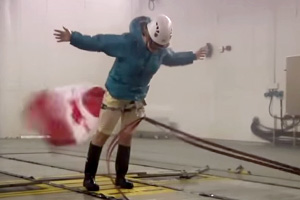 The weather inside is frightful.
But at the University of Ontario Institute of Technology's (UOIT) ACE, it's delightful. And The Weather Network (TWN) is sharing the great news about the ACE climatic wind tunnel with Canadians across the country. A new series of TWN web segments showcases the awesome capacity of ACE's extreme weather capabilities.
In the three-part web series, TWN's Leanna McLean takes viewers on a first-hand blustery and sweltering ride of hurricane-force winds, driving rain and intense desert heat in the ACE climatic wind tunnel.
In Segment 1, McLean experiences 70 km/h winds and blowing rain as the climatic wind tunnel serves up the environment of a tropical storm as it approaches Category 1 hurricane status. In Segment 2, she examines how hot the interior of a car can become on a sunny summer day in Southern Ontario.
In Segment 3 McLean was exposed to the power of ACE's solar simulator to endure the effect of the summer sun and how it can soar internal car temperatures to unbearable and even deadly levels. This simulation was used to replicate the effects of the direct sun on a parked car during the summer. McLean again subjected herself to the harsh environment created by ACE and documented her experience while sitting in the unbearably hot car for 10 minutes. The segment will be used to spread awareness about how devastating it can be to leave animals and children in the car during the summer.
ACE was delighted to welcome Leanna McLean and TWN to help showcase the unique features of the climatic wind tunnel and participate in the creation these segments.
Check our YouTube channel to view ACE's debut on The Weather Network: