UOIT applauds choice of Dr. Gary Polonsky as independent advisor for Pickering Lands
July 31, 2015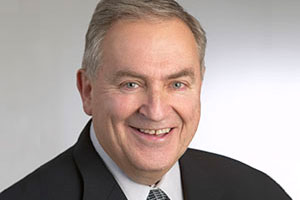 The University of Ontario Institute of Technology (UOIT) is proud that its founding president will play a key role in deciding the future of the Pickering Lands. Dr. Gary Polonsky has been named by the Honorable Lisa Raitt, federal Minister of Transportation, as the Independent Advisor on the economic development of the Pickering Lands.  
The Pickering Lands, located 56 kilometres northeast of downtown Toronto, have been owned by the Government of Canada since 1972. On July 13, Minister Raitt announced that an Independent Advisor would be retained by Transport Canada to conduct market sounding by engaging with targeted stakeholders on the potential future development of the Pickering Lands. Transport Canada has said that approximately 9,600 acres in the southeast sector of the Pickering Lands could be used for economic development, including a potential future airport.
"Gary is the perfect choice to offer an independent and educated assessment on what can be done to develop these key lands," said Tim McTiernan, President and Vice-Chancellor, UOIT. "Given our university's proximity to the Pickering Lands, as well as our strengths in areas like sustainable development and infrastructure engineering, we are also excited about how our students and professors can engage in the development of these lands and in furthering the growth of Durham Region."
Dr. Polonsky served as UOIT's founding president from 2003 until his retirement in 2006, when he was named President Emeritus. He will gauge stakeholder views on the level of private and public sector interest and/or desired involvement in the economic development of the lands, including a potential airport, and seek feedback from stakeholders with regard to the timing and type of airport and how it would be developed and operated.
Within 12 months, Dr. Polonsky will provide a final detailed report summarizing what was heard and offering views on how to move forward with economic development.