UOIT researcher partners with Durham Regional Police Service to train officers on interviewing techniques
August 20, 2015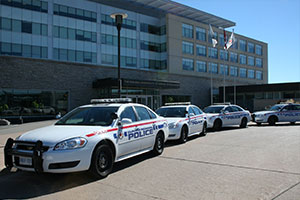 Police interviews play a crucial role in criminal investigations. The information gathered from suspects, victims and witnesses can help solve a case. However, not all police officers receive enough training in this area, and those who do may find the methods they've learned are not helpful in all cases.
Dr. Joseph Eastwood, a Forensic Psychology researcher at the University of Ontario Institute of Technology (UOIT), has helped address this issue by partnering with the Durham Regional Police Service (DRPS) to provide interview training to local police officers based on the PEACE model. Developed in the U.K. in the early 1990s, PEACE consists of research-based interviewing best practices. It includes five steps:
Planning and preparation
Engage and explain
Account
Closure
Evaluation
The PEACE interviewing model was brought to Canada by Dr. Brent Snook, Psychology Professor, Memorial University in St. John's, Newfoundland and Labrador. The Royal Newfoundland Constabulary (RNC) was the first police force to adopt and train many of its members in this model beginning in 2008. Dr. Eastwood, Assistant Professor, Faculty of Social Science and Humanities, received both his master's and PhD degrees in Experimental Social Psychology from Memorial University. He has extensive knowledge of the model, having worked closely with Dr. Snook when it was first introduced to the RNC.
Alongside Detective Paul Mitton, Polygraph Examiner, DRPS, Dr. Eastwood taught a four-day course for the first time in February 2015 to four DRPS officers at his lab.
The training includes both theory and practical application, such as the chance to conduct mock interviews. It is similar to a course Detective Mitton participated in at Memorial University in 2014.
The first group of DRPS trainees included four experienced investigators from three different investigative units within DRPS, who were chosen for their strong interviewing skills.
"The ultimate goal is to help the DRPS further improve their interviewing practices," explains Dr. Eastwood. "This course will serve as a pilot project to assess the feasibility of implementing PEACE into the DRPS. The feedback from the officers on the training and the PEACE model has been positive, and we're assessing interviewing performance pre- and post-training to measure objectively the effectiveness of the training. We are also working on delivering a condensed version of the training to new recruits to ensure they have a foundation of interviewing skills when they first begin with the organization."
Related links: