Board of Governors reappoints Tim McTiernan to head the University of Ontario Institute of Technology
Approved for second term for four years as President and Vice-Chancellor
September 15, 2015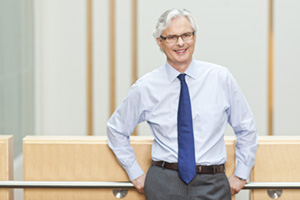 OSHAWA, ONTARIO – The Board of Governors of the University of Ontario Institute of Technology (UOIT) is very pleased to announce that Tim McTiernan will continue as President and Vice-Chancellor of the university for a second term of four years at the end of his current agreement.
"The board looks forward to the President continuing his work on meeting the university's special legislated mission: namely to provide career-oriented programs, as well as to design and offer programs that create opportunities for college graduates to complete a university degree," said Glenna Raymond, Chair of the Board of Governors.
The reappointment process began earlier this year with a series of consultations among board members and the university's students, faculty and staff, as well as with members of the broader community. "The views expressed during the consultation process confirmed the high degree of support the President has built within the university and external communities as he carries forward his next mandate," said Ms. Raymond.
Dr. McTiernan was installed as the university's third President and Vice-Chancellor in 2011. His current term expires on July 1, 2016, after which his second term of four years would begin.
"Our university is centred on its students' successes," said President McTiernan. "We also pride ourselves on how we affect positively the economic and social future of the eastern Greater Toronto Area. My colleagues and I look forward to continuing those successes in the coming years."
Media contact
Bryan Oliver
Communications and Marketing
University of Ontario Institute of Technology
905.721.8668 ext. 6709
289.928.3653 (cell)
bryan.oliver@uoit.ca
@BOliver_UOIT