UOIT and Durham College finalize Campus Master Plan to guide vision for the future
September 22, 2015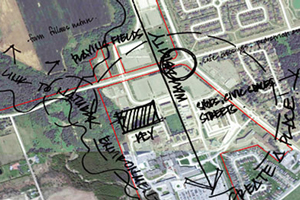 After two years of consultation, planning and development, the University of Ontario Institute of Technology (UOIT) and Durham College (DC) are pleased to announce the completion of their joint Campus Master Plan (CMP).
The CMP outlines a broad vision to show how the institutions will grow their physical presence in the many years ahead to address the academic, research, student life, athletic and community partnership needs as both institutions evolve and grow. It also encompasses the policy and guidelines that implement the vision, support the principles, and will result in holistic placemaking at the shared Oshawa campus.
"The guiding principles of the plan resulted from the ideas and perspectives of our stakeholders, and we thank students, employees, partners and the community for their input and feedback," said Tim McTiernan, UOIT President and Vice-Chancellor. "This plan will work well for the university and college, as well as for our valued community partners."
"This has been a significant undertaking for both DC and UOIT, and we are pleased with the work, input and consideration that has resulted in a successful and comprehensive plan," said DC President, Don Lovisa. "We hope it will create excitement about our vision for new buildings, existing space and facilities, our commitment to being pedestrian and transit friendly, and other details that will carry us from today to large and thriving institutions in 2030 and beyond."
While the CMP calls for enhancements to the existing campus, the plan also anticipates new growth and encourages walkability as an important component of a vibrant, integrated and sustainable campus community.
Specific CMP focus areas include:
campus character
infrastructure and utilities
movement and circulation
public realm and open space
sustainability and universal accessibility
For more information on the Campus Master Plan or to access the document, please visit campusmasterplan.ca.
Media contacts:
Bryan Oliver
University of Ontario Institute of Technology
Communications and Marketing
905.721.8668 ext. 6709
bryan.oliver@uoit.ca
Meghan Ney
Durham College
Communications and Marketing
905.721.2000 ext. 6219
meghan.ney@durhamcollege.ca