Ontario Tech University professor named 2015 Advance Global Australian Award winner
Dr. Carolyn McGregor honoured September 14 in Sydney
September 10, 2015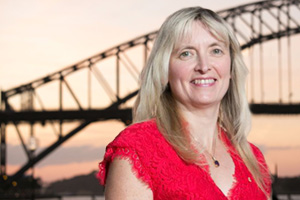 SYDNEY, AUSTRALIA – Just like Canadians, Australians are exceptionally proud of their citizens who make their mark on the international stage, especially those who achieve remarkable feats in their industry while living overseas.
The Ontario Tech University congratulates Dr. Carolyn McGregor, Canada Research Chair in Health Informatics as a recipient of the 2015 Advance Global Australian (Advance) Awards, which recognizes important contributions of high-achieving Australians living abroad. 
Winners are selected from those who display innovation, leadership and entrepreneurship excellence in one of nine fields. Dr. McGregor, a Professor at Ontario Tech University's Faculty of Business and Information Technology (FBIT) accepted the Advance Award for Technology Innovation on Monday, September 14 in a ceremony at the iconic Sydney Opera House. 
"I am incredibly excited and deeply honoured to receive this prestigious award from my home country," said Dr. McGregor. "It demonstrates that the research I have led at the University of Ontario Institute of Technology is not only seen as relevant and innovative in Canada, but also internationally. It shows that what we create in Canada has the potential to be used in other countries such as Australia. That is the best outcome of the research process."
Since arriving at Ontario Tech University in 2007, Dr. McGregor has been the driving force behind the Artemis Project – research that applies real-time online big data analytics and data mining principles to help reduce mortality rates in premature babies. Artemis is named after the Greek mythological goddess associated with protecting child-bearing women and young children.
Now global in scope with research partners around the world, the Artemis Project has been recognized with numerous awards – and has also attracted extensive media coverage from top international broadcasters and publications.
Dr. McGregor is also part of the NASA Mission to Mars in 2030, developing computer systems to monitor the health of astronauts and strategies for the provision of immediate medical assistance.
Quotes
"Dr. McGregor has advanced innovative solutions to the many challenges imposed by Big Data and she continues to push health informatics to higher levels of sophistication every day. She has worked with tirelessly with partners such as IBM and The Hospital for Sick Children and built a team of experts representing many other countries. As a global leader in her field, Carolyn's research achievements and Australian accolades bring great distinction to her, her research team and our university." 
-Michael Owen, Ph.D., Vice-President, Research, Innovation and International, UOIT.
"We believe one of Australia's greatest exports is its talent. It's great to honour these individuals and to be able to share their success stories."
-Serafina Maiorano, Global CEO, Advance
"What we unearth through our awards is a remarkable group of lesser-known Australians who – with what I believe is a unique brand of Australian resourcefulness and an innate sense of fairness – are out there literally changing the world."
-Glen Boreham, Chair, Advance.
About Advance
Advance is the preeminent global community of Australians and alumni abroad, with a growing membership of over 25,000 in 90 countries. Advance forges connections with the one million Australian diasporas and two million universities, drawing on their experience and networks to open doors and opportunities for Australia, Australian companies and Australians around the globe. Advance is devoted to the exchange of knowledge, connections and ideas to inspire and empower other global Australians to succeed in the world; build entrepreneurial Australian companies globally; grow global career opportunities for global Australians; and create opportunities to be a 'brain resource' for Australia. Advance is a not-for-profit organization headquartered in New York City, with further offices in Hong Kong, London and San Francisco. Advance is supported by the Australian Government, with further support from corporate partners and donors. Advance receives funding support from the Australian Government, and its Patron is the Prime Minister of Australia.
---
Media contact
Bryan Oliver
Communications and Marketing
Ontario Tech University
905.721.8668 ext. 6709
289.928.3653
bryan.oliver@ontariotechu.ca