UOIT researcher co-authors award-winning paper on Aboriginal entrepreneurship
September 2, 2015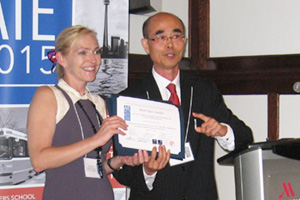 Generations of Canada's Indigenous peoples have faced long-standing, devastating social and economic inequities driven by the profound failure of 'passive welfare' systems, says an education researcher at the University of Ontario Institute of Technology (UOIT).
To help break that cycle, Dr. Laura Pinto, Assistant Professor, Faculty of Education, is skeptical of entrepreneurial programs that amount to little more than 'civilizing missions' for Indigenous peoples, in which conventional market values and practices are imposed on all Canadians. Rather, she wonders how we might eliminate so-called 'segregated' entrepreneurship and instead centre Indigenous knowledge in 'mainstream' business education and practice.
Those concerns are central to an award-winning research paper co-authored by Dr. Pinto and Levon Blue of the School of Education and Professional Studies at Griffith University in Nathan, Australia. Their paper, Visions of Aboriginal Entrepreneurship Financing in Canada's CAPE Fund*: Walking the Fine Line Between Self-Determination and Colonization, was selected for the Best Paper Award at the 8th Annual Conference of the Academy of Innovation and Entrepreneurship (AIE). The paper will be published in a special issue of the Journal of Entrepreneurship in Emerging Economies.
"Canada needs to have a serious conversation about the intersections between Indigenous enterprise, limited and sometimes inflexible funding structures, and self-determination," said Dr. Pinto. "Levon Blue and I hope our work will extend thinking and practice beyond the limitations of conventional notions of entrepreneurship. For example, the way a company's value is assessed often fails to account for non-economic factors that are equally important 'success' criteria - such as the consideration of decolonization."
Dr. Pinto's research also reflects UOIT's expanding commitment to cutting-edge entrepreneurial scholarship in support of the university's forthcoming Centre for Advanced Research, Innovation and Entrepreneurship (CARIE).
Two other UOIT researchers were also featured at the AIE Conference:
Dr. Hui Zhu, Assistant Professor, Faculty of Business and Information Technology (FBIT) (Co-operative Innovation: Cross-Country Comparisons)
Dr. Rajen Akalu, Lecturer, FBIT: Policy Strategies for Facilitating Innovation in Wireless Communication
"It's an honour to be recognized by an international audience of peers, and it underscores the relevant local and international connections between scholarship taking place at our university in the faculties of Education, and Business and Information Technology," said Dr. Pinto. 
AIE is hosted by the Canada-China Institute for Business and Development at Ryerson University in Toronto, Ontario, in association with England's University of Oxford, and Tsinghua University in Beijing, China.
*Related link: