UOIT photo contest promotes workplace wellness
October 30, 2015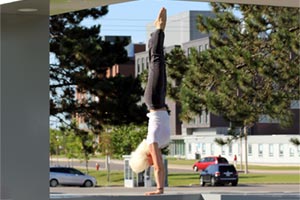 The University of Ontario Institute of Technology (UOIT) is committed to ensuring a healthy, safe and supportive workplace.
Through the efforts of UOIT's Healthy Workplace Committee (HWC), the university offers a variety of resources and programs that strive to support a positive work environment, foster healthy and engaged employees, and promote physical and emotional wellness.
For the second year in a row, the committee hosted the Just for the Health of It photo contest, where employees were asked to demonstrate participation in activities involving physical fitness and fun.
Participants submitted photos in three different categories:
Physical fitness @ UOIT
Family and friends
Individual/reflection
Prizes included UOIT gym wear, and gift cards to promote continued support for an active lifestyle. 
"After the success of our contest last summer, we decided to run this fun initiative again to promote a healthy workplace culture," said Mary Steele, HWC Chair.
"This was our second year running the contest and we received submissions from new entrants which was great to see," added Tanya Neretljak, photo contest lead, HWC. "The contest reflects the main objective for the committee – to engage faculty and staff."
Other 2015 HWC initiatives included:
Valentine's Random Act of Kindness Carnation-giving event
Self-care and nutritional workshops
Campus Health and Wellness Fair (held on October 22 and 23)
Mindsight certification
The HWC continues to promote the UOIT-created Mindsight program – an easy-to-use online educational community resource to reduce stigma by promoting awareness of mental illness and facilitating a greater understanding of basic strategies and resources for supporting individuals experiencing a mental health challenge. 
Gallery