How collectible toys offer food for thought on consumerism
How collectible toys offer food for thought on consumerism
November 30, 2015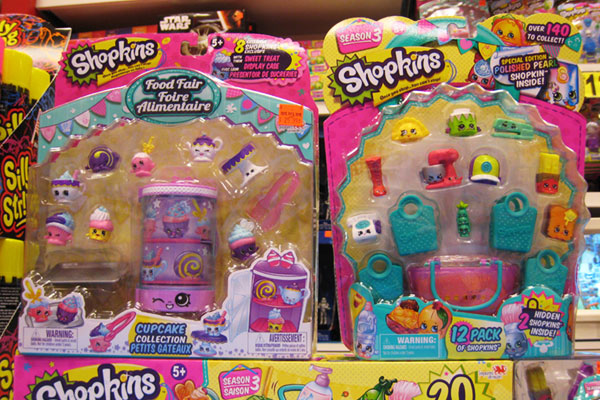 Most are about the size of a potato chip. Some are even smaller. But to millions of youngsters around the world, they are a very big deal. They are the toy craze of 2015, with many parents finding Shopkins at the top of their children's wish list this holiday season.
Manufactured by Australia's Moose Toys, Shopkins is a popular line of more than 140 playful, tiny and ultra-cute collectible characters. Each represents an anthropomorphized grocery, household or cosmetic item (such as guitar-playing broccoli, giggling mushrooms and winking nail polish bottles). Named the 2015 Toy of the Year by the Toy Industry Association of America, Shopkins boasted sales of over six million units in only four months.
You might not expect kids to take interest in something like plastic vegetables – so what might account for the Shopkins' immense global success? Dr. Laura Pinto, Assistant Professor, Faculty of Education, University of Ontario Institute of Technology (UOIT) was recently interviewed by CBC Windsor Morning to explore that question, and her longer commentary on the subject will appear in the Winter 2016 issue of the education journal Our Schools Our Selves.
"From a marketing perspective, Shopkins plays to the 'collecting instinct' of children– something that begins as early as the age of three, and intensifies between ages eight and 10," Pinto explains. "Shopkins is all about collecting sets and rare characters, then trading them with friends – much like earlier generations of kids did using marbles or baseball cards and the like. It's no wonder that this type of play has appealed to kids."
What lessons do children learn when playing with Shopkins?
In her commentary, Pinto explains how collection-based play is beneficial to younger children. It aids in developing certain executive brain functions (concepts of criteria, sorting, and rules to determine sets). The process of trading with peers can contribute to socialization: when participating in a barter, the child is honing a theory of mind when considering the peer's state of mind and reasons, which can contribute to the development of prosocial behavior.
Despite the benefits of collection-based play, Pinto also cautions that the Shopkins world reinforces – even glorifies – consumer culture. The entire toy brand, including its name, is about buying and accumulating. The collect-and-trade aspect of the toy guarantees repeat purchases – strengthened by the toy brand's core premise of play being about shopping itself.  
"Because play is part of identity formation," Pinto explains, "Shopkins encourages children to view their identity as a consumer. Defining yourself by what you spend and what you own leads to more spending and more buying. But research has repeatedly shown that conspicuous consumption does not lead to personal fulfilment."
Do Shopkins play to stereotypes about girls?
Within the very pink hue of the Shopkins world lies the implication that 'shopping is for girls/women.' Stereotypes like this one conveyed by toys and the way that they are marketed correspond to inequalities children will experience in adult life. The toy reinforces stereotypes that girls 'ought to' like shopping, thus limiting their perceived choices. On the other hand, the stereotypes are also potentially damaging for boys, who might conclude that a boy 'ought not' like shopping if he is to be masculine, undermining the confidence of boys who might be drawn to this type of play. And boys are more likely than girls to be stigmatized when crossing gender boundaries with respect to play and toys (exemplified by the phenomenon arising from the 2009 Cheryl Kilodavis picture book My Princess Boy).
Pinto concludes that, as with any toy, parents can turn Shopkins' shortcomings into teachable moments with their children.
"Shopkins can open up multiple discussions about gender stereotypes, about consuming and shopping, and about value. Parents can engage children in repeated conversations about rewarding leisure activities that don't necessarily involve spending money or being in a store, and experience some of those with their children."
She says parents can also augment Shopkins play and talk with relevant stories.
"The Dr. Seuss classic The Lorax (Random House) could open a discussion about parallels between Shopkins and Thneeds – including consumer culture, what raw materials go into each, and where they wind up. Or Shel Silverstein's The Missing Piece (HarperCollins) in which a circle seeking its missing piece decides that it was happier when searching for the piece than actually having it."
Fun fact: Shopkins as an investment?
Each individual Shopkin is produced in varying quantities, meaning some characters are extremely hard to find. This is drawing interest from adults hoping to discover – and perhaps later sell for a profit – a Shopkins rarity like the character Cupcake Queen of which only 100 were made. In December 2014, a Cupcake Queen was sold eBay by someone in the United Kingdom for a remarkable C$2,045.
---
Media contact
Bryan Oliver
Communications and Marketing
Ontario Tech University
905.721.8668 ext. 6709
289.928.3653
bryan.oliver@uoit.ca