Internationally renowned journalist Gwynne Dyer to deliver free public lecture November 11
UOIT and Trent University Durham co-hosting event at the Regent Theatre
November 6, 2015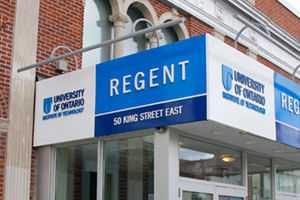 Canadian journalist, syndicated columnist, military historian, speaker, author, and one of Canada's best known defence and foreign policy analysts, Gwynne Dyer, PhD will be welcomed to the Oshawa community for a free public lecture on Wednesday November 11, 2015 at 7p.m. at the Regent Theatre.
The lecture, which is co-hosted by the University of Ontario Institute of Technology (UOIT) and Trent University Durham will see Dyer discussing the topic of his recent book, Don't Panic, which explores unrest in the Middle East, the rise of ISIS and why society need not fear for the future.
Dyer has previously visited UOIT to speak on issues such as terrorism, American and British policies after the Iraq War, the emerging power of China and the shift in global influence of the United States.
Originally trained as an historian, Dyer has worked as a freelance journalist, columnist, broadcaster and lecture on international affairs for more than 20 years. He served in three navies and held academic appointments at the Royal Military Academy Sandhurst and Oxford University before launching his twice-weekly column on international affairs, which is published by over 175 papers in 45 countries. His first television series, the seven-part documentary War, aired in 45 countries in the mid-1980s and was nominated for an Academy Award for one of the episodes. In 2010, he was appointed an Officer of the Order of Canada.
What:
Don't Panic – A Lecture by Gwynne Dyer
Where:
Regent Theatre
50 King Street East
Oshawa, Ontario
When:
Wednesday, November 11 at 7 p.m.
For more information contact:
Kate Weersink
Media Relations and Strategic Communications Officer
Trent University
705.748.1011 ext. 6180
kateweersink@trentu.ca
Bryan Oliver
Communications and Marketing
University of Ontario Institute of Technology
905.721.8668 ext. 6709
bryan.oliver@uoit.ca