University honours excellence among faculty and staff
November 13, 2015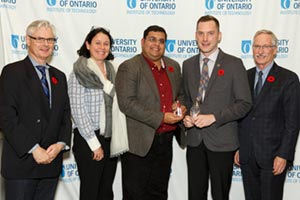 The University of Ontario Institute of Technology (UOIT) campus community celebrated the outstanding achievements of faculty and staff throughout 2015 in a special ceremony November 10 in the Science Building's Dr. Peter Zakarow Auditorium.
The university's annual Awards of Excellence recognition event honours individual commitment and also celebrates team achievements.
"These awards truly showcase our commitment to students – to provide an environment where we work together to deliver the best university experience to those who have chosen UOIT as their place of research and learning," said Tim McTiernan, UOIT President and Vice-Chancellor. "It is wonderful to have an opportunity to acknowledge the collective contributions of our university's dedicated faculty and staff. Congratulations to all of the nominees and award recipients on their outstanding achievements over the past year."
Award categories:
The UOIT Team Award is presented to a team that has demonstrated exemplary performance and has made significant contributions to the university.
The Staff Awards of Excellence recognize staff members who have made outstanding contributions in their roles and achieved excellence in demonstrating UOIT's core competencies.
The Research Excellence Awards recognize faculty who have achieved national and/or international success and recognition through their research activities and enhanced UOIT's reputation as a research-focused institution.
The Teaching Excellence Awards provide recognition for teaching excellence, encourage its pursuit, publicize such excellence across the university and the wider community, and promote informed discussion of teaching and its improvement.
From a long list of distinguished nominees, the following members of the UOIT team were acknowledged for 2015:
UOIT Team Award
Forensic Science Team (Faculty of Science): Cecilia Hageman, Nelson Lafreniere, Helene LeBlanc, Kimberly Nugent and Stacey Sainte-Marie
Staff Awards of Excellence
Administrative/Technical (two awards presented): 

Caitlin Crompton, Office of the Provost
Richard Drake, Faculty of Science

Professional/Managerial: 

Marose Bellehumeur, Office of Student Life
Research Excellence
Early-stage researcher (two awards presented): 

Dr. Christopher Collins, Faculty of Science
Dr. Sheldon Williamson, Faculty of Engineering and Applied Science
Teaching Excellence Awards
Tenured and Tenure-Track Faculty: Dr. Isaac Tamblyn, Faculty of Science
Teaching Faculty: Connie Thurber, Faculty of Health Sciences
Teaching Assistant: Robert Burden, Faculty of Business and Information Technology 
Gallery