Innovative students battle at 2015 UOIT Engineering Robotics Competition
University marks the event's 10th anniversary
December 3, 2015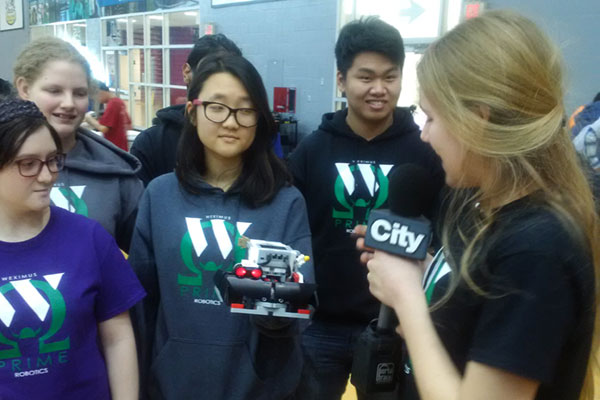 Young science students came to the University of Ontario Institute of Technology (UOIT) on November 28 to build robots and push the envelope of their developing engineering skills. They also came to UOIT to push their opponents' robot designs around – in a bid to be the last robot standing.
The arena for this robotic battle royale was the 10th-annual UOIT Engineering Robotics Competition, hosted by the university's Faculty of Engineering and Applied Science (FEAS). Following up on several weeks of tutorials, workshops and preparation throughout the fall, approximately 300 high school, middle school, and even elementary students from Durham Region and the Greater Toronto Area battled in a full day of 'SumoBot' competitions where participants used LEGO Mindstorm NXT and EV3 kits.
Selected links to media coverage of the 2015 UOIT Engineering Robotics Competition:
"This year we welcomed 56 teams representing 25 schools from across the GTA and as far away as Bracebridge – a team increase of 40 per cent over last year," said main organizer Dr. Mikael Eklund, Associate Professor, FEAS. "Our professors and graduate students are always inspired by the enthusiasm and creativity of the competitors. Over the years we've seen some UOIT Engineering Robotics Competition participants ultimately pursue an education in engineering disciplines. In fact, some have ended up studying right here at our university."
How does the robotic competition work?
Each team designs and builds its own autonomous robot, programming it to 'survive' an all-out pushing contest against seven other robots on a huge octagon table. Each robot is a different creation and has varying strategic characteristics. Points are earned in each match by avoiding being pushed off the table by another school's robot. Teams also earn points for submitting an engineering design report that demonstrates the knowledge competitors have gained throughout the fall.
"The organizers, volunteer judges and sponsors were thoroughly impressed with the hard work each team put into competition, "said Dr. Eklund. "A challenge like this event shows these young women and men are on the right track as they consider post-secondary study opportunities in the realm of engineering, science and technology. And above all, they had a lot of fun."
2015 awards:
First place: Archbishop Denis O'Connor C.S.S. 'Team A', Ajax
Second place: SATEC @ W.A. Porter C.I. 'Team A', Scarborough
Third place: SATEC @ W.A. Porter C.I. 'Team C', Scarborough
Fourth place: Keswick H.S. 'Team B', Keswick
Best Engineering Design: Archbishop Denis O'Connor CSS 'Team B', Ajax
Best New School: Marc Garneau C.I. 'Team C', Toronto
Sportsmanship: St. Isaac Jogues C.S., Pickering; and Toronto District Christian H.S. 'Team C', Vaughan
Women in Engineering: SATEC @ W.A. Porter C.I. 'Team C', Scarborough
Most Novel Design: Keswick H.S. 'Team A', Keswick
Referees' Award: Bracebridge and Muskoka Lakes S.S. 'Team A', Bracebridge 
This year's Robotics Competition would not have been possible without the effort of many UOIT volunteers (led by FEAS and the Office of the Registrar) and the generous support of the Lake Ontario Chapter of the Association of Professional Engineers of Ontario.
Now 10 years old, the popular robotics competition is the longest-running annual community event organized by the university. During the opening ceremony, competition founder Dr. Ramiro Liscano, Chair of Electrical, Computer and Software Engineering, UOIT shared a brief event retrospective with participants, teachers and parents.
For details about registering for the 2016 UOIT Engineering Robotics Competition, please visit roboticscomp.engineering.uoit.ca.