Toy Story 2: What is the Elf on the Shelf teaching kids and parents?
International media again seek insight from UOIT's Dr. Laura Pinto
December 16, 2015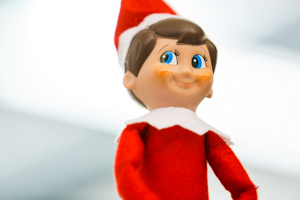 The Elf on the Shelf is watching. Again. And just as in the run up to Christmas 2014, retailers are smiling as they watch the Elf fly off their store shelves.
You may recall how the popular Christmas-themed toy generated a lot of media buzz last year. Dr. Laura Pinto, Assistant Professor, Faculty of Education, University of Ontario Institute of Technology (UOIT) and her colleague Dr. Selena Nemorin of Monash University in Melbourne, Australia co-authored a playful opinion piece that appeared in the Canadian Centre for Policy Alternatives (CCPA) Monitor and in the journal Our Schools / Our Selves.
Their analysis asked whether the Elf concept contributes to the uncritical acceptance of increasingly intrusive (albeit whimsically packaged) modes of surveillance in the adult world. It hit a strong nerve. The whirlwind of elf debate coverage by major international media outlets included such publications as the Washington Post, The Atlantic, The Telegraph and many others.
"Some of the reaction last year was swift and dismissive," says Pinto. "Interestingly, there's been a lot of media coverage again this December. But I am finding this year we are seeing a much more balanced discussion among journalists, parents and educators. Rather than dismissing the surveillance criticism as a fringe argument, it seems to have been (ironically) normalized and widely read."
In fact, the Columbia Review of Journalism (CRJ) commented on features of an interview with Pinto by the Washington Post (the Post's most-read story in both December 2014 and December 2015). The CRJ asserts the viral nature of the Elf story is one of the contributing factors to the Washington Post's recent social media and Internet domination.
The story's strange, multi-year appeal is supported by metrics provided to Media Miser, which indicate that Pinto's Elf story has reached more than 105 million people in the United States through radio, television and print/online news. In 2014 alone, Pinto's video that inspired the original paper, Elf et Michelf, had more than 37,000 views (more than 56,000 as of December 16, 2015).
While the Elf story struck a nerve with conventional and social media, its importance was not lost on academics. Pinto was invited in January 2015 to speak at the Surveillance Studies Centre Seminar Series at Queen's University, in Kingston, Ontario where she delivered the paper: Dropping the elf bomb: A frames analysis of media and public surveillance discourse in response to Elf on the Shelf. Dr. Pinto and Dr. Nemorin intend to work this research into a scholarly paper to better understand how knowledge mobilization of high theory operates.
Elf on the Shelf 2015 – selected UOIT media coverage