UOIT researcher demonstrates Blancride carpooling app at Tech Day event
December 9, 2015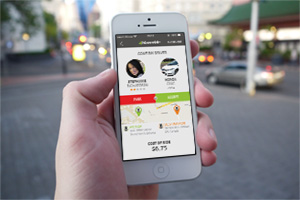 University of Ontario Institute of Technology business researcher Dr. Hamid Akbari showcased the university's leadership in developing sustainable solutions during the recent Tech Day event held at Queen's Park in Toronto, Ontario.
Dr. Akbari, Assistant Professor, Faculty of Business and Information Technology (FBIT), demonstrated Blancride, an innovative carpooling platform developed at the university that matches passengers with drivers who share the same travel needs. His audience included the Honourable Reza Moridi, Ontario Minister of Research and Innovation, as well as several other members of provincial parliament.
"This was an excellent opportunity to present the innovative research and development happening at the University of Ontario Institute of Technology," said Dr. Akbari, who worked with a team of 13 students and alumni to develop the app as part of the formal FBIT incubator program. "We are a young university that has already established a strong, distinguished brand and culture of innovation and entrepreneurship. We look forward to the many other innovative technologies developed by our researchers and students that will transform people's lives for the better."
How BlancRide works
BlancRide is designed for everyone in the car to split the cost of the journey, rather than the driver making a profit.
Passengers use the app to enter a pick-up and drop-off location, and indicate how flexible their schedule is.
The app geographically matches registered drivers and passengers, who agree to ride together by accepting the match and then provide feedback to Blancride through a rating system which helps build a 'grade' for drivers and the passengers once the ride has completed.
The average cost is based on the distance of the trip; however, rates are substantially lower than what commuters would pay for a taxi cab or Uber service because it involves ride-sharing, not ride-hailing.