Region of Durham presents Healthy Workplace Award to UOIT
February 25, 2016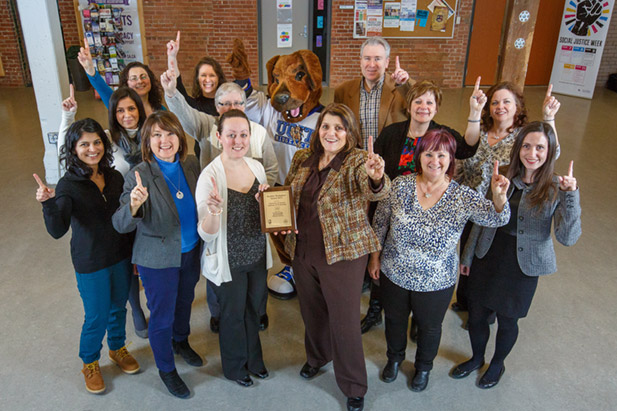 For the second consecutive year, the Regional Municipality of Durham's Health Department presented the University of Ontario Institute of Technology (UOIT) with a Healthy Workplace Award (Gold category).
The Healthy Workplace Award recognizes workplaces in Durham Region for their efforts to support the health of their employees.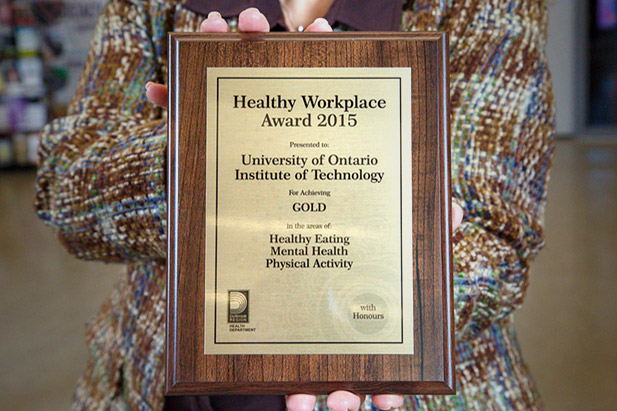 For 2015, the university's categories of recognition are:
Healthy Eating*
Physical Activity*
Mental Health
*The university also won Gold Awards in these categories in 2014.
The award presentation coincides with the third anniversary of the university creating the Healthy Workplace Committee.
To achieve the Region of Durham award, a workplace must use at least two of the following four health strategies:
Awareness Raising
Education and Skill Building
Environmental Support
Healthy Policies
In 2013, the university's Human Resources department created the Healthy Workplace Committee (HWC) – a team of faculty and staff representatives from various departments, offices and faculties across the university. Since it was launched, in addition to driving awareness of various wellness resources, the HWC has also championed a number of initiatives to engage university employees, such as:
Carnations for Kindness
Encouraging faculty and staff to complete the UOIT-created Mindsight program  (online educational community resource to reduce stigma of mental illness)
Healthy Eating Calendar (proceeds to support students through the Holiday Campus Food Drive)
Healthy Workplace Fair
Just for the Health of It photo contest
Promoting on-campus health and safety initiatives
Promoting work, health and life balance
Random Acts of Kindness Day
Workshops and seminar on mental health awareness
Yoga in the Park
Quotes
"The University of Ontario Institute of Technology is committed to ensuring the university is a healthy, safe and supportive place to work. We are very proud to be recognized by the Region for the second straight year. The university offers a variety of resources and programs that strive to support a positive work environment, foster healthy and engaged employees, and promote physical and emotional wellness."
-Joanne Evans, Director, UOIT Human Resources
"Adults spend about half of their waking hours at work, so the workplace has a huge impact on the health of employees. The winners of this award have shown dedication to health and wellness initiatives at their workplace to support their employees."
-Danielle Cox, Public Health Nurse, Region of Durham