Investigating transportation electrification; and what our online activities say about today's culture
Packed room takes in 2016 Research Excellence Award Speaker Series
March 30, 2016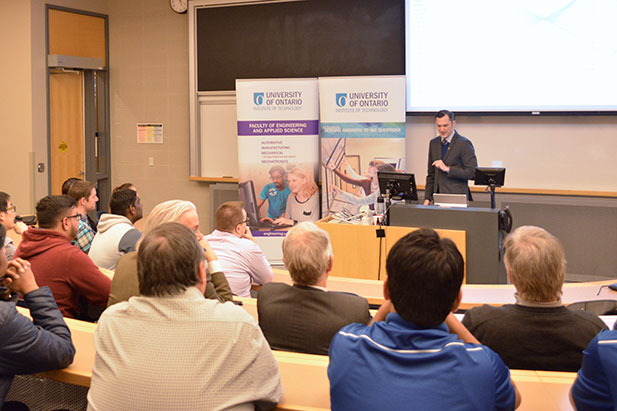 How 'green' are clean energy technologies? What patterns can we extrapolate from the massive ocean of data society generates online each and every day?
These were just some of the topics examined March 23 by two Canada Research Chairs at the University of Ontario Institute of Technology (UOIT) as the Office of the Vice-President, Research, Innovation and International hosted the Research Excellence Award Speaker Series. 
The event featured the two recipients of the 2015 UOIT Research Excellence Award:
Dr. Collins, Canada Research Chair in Linguistic Information Visualization discussed how his research lab investigates language data to provide insights into culture and society.
Our ability to communicate through language is often considered the hallmark of humanity. Through language data, we leave traces of our individual personalities and our culture online. From the secret language of passwords, to the public broadcast of social media, Dr. Collins' team has created interactive visualizations for exploring and revealing patterns in language data.
Dr.  Williamson, Canada Research Chair in Electric Energy Storage Systems for Transportation Electrification, showcased the launch and current status of the university's new research program on transportation electrification and electric energy storage systems. He also introduced the university's new, one-of-a-kind Advanced Storage Systems and Electric Transportation (ASSET) research facility. The university's research initiatives within the newly established Smart Transportation Electrification and Energy Research (STEER) group have the potential to provide a significant link for future progress concerning efficiency and performance improvement of electric transportation and personal e-mobility vehicles.