Taking the first step: The benefits of walking meetings
Many organizations spend 15 per cent or more of their time in meetings
March 24, 2016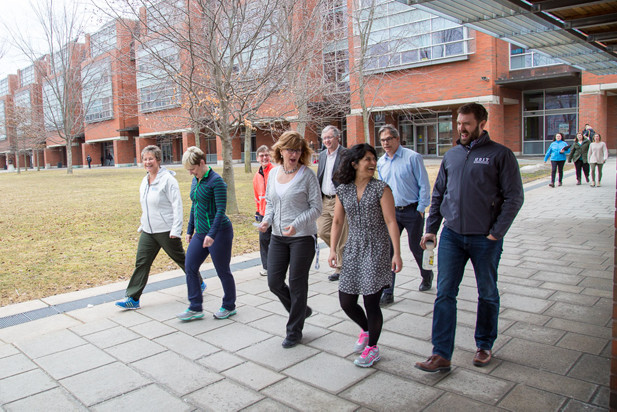 On your way to yet another meeting?
Meetings are intended to be a productive method of discussing issues, debating ideas and generating outcomes. Yet, many experts argue the majority of meetings are unproductive.
One thing everyone can agree on: meetings require participants to do very little from a physical standpoint. In an effort to promote the health benefits of anti-sedentary behaviour, Dr. Lori Livingston, Dean, Faculty of Health Sciences (FHSc) is championing a new on-campus initiative: walking meetings, every Wednesday at 1 p.m.
The concept for Walking Wednesdays (WW) is simple. Meeting participants walk around the perimeter of Polonsky Commons. The walk lasts no more than 30 minutes. WW has also received a strong endorsement from the university's Healthy Workplace Committee.
The inaugural WW on March 9 saw Dr. Livingston lead an informal walk-and-talk on general health topics, including the physical and mental benefits of holding a meeting in a dynamic environment, rather than sitting in chairs around a table.
"Different environments often inspire new ideas," says Dr. Livingston. "Participants in walking meetings are typically more alert and feel a strong sense of team-building. And walkers are amazed to learn the number of calories they can burn with just a few laps around Polonsky Commons."
Dr. Greg Crawford, Dean, Faculty of Science joined FHSc faculty and staff for the first event. Dr. Livingston hopes FHSc's lead will inspire other university faculties and departments to build walking meetings into their meeting schedules.