The future of fuel cells: better-performing and less expensive
New NSERC funding for UOIT's Brad Easton, who aims to help Canada meet its clean energy needs
March 1, 2016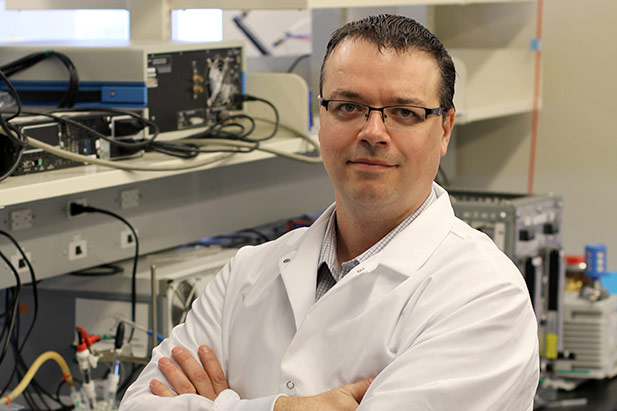 To the uninitiated, fuel cells are typically compared to batteries. The working principle of each is generally the same: a chemical reaction produces a quantity of energy which is then converted into usable electric power. But unlike a battery, you never recharge a fuel cell. You keep feeding it fuel and it keeps producing electricity.
The earliest fuel cells actually date back some 175 years, but researchers like the University of Ontario Institute of Technology's (UOIT) Brad Easton, PhD are still searching for ways to make them commercially viable.
"Improving the performance of materials inside a fuel cell under all potential operating conditions is a complex challenge involving considerations of temperature, moisture and the specific elements involved in the chemical reactions," explains Dr. Easton. "We focus on polymer electrolyte membrane fuel cells (PEMFC) – a clean energy technology that electrochemically reacts hydrogen and oxygen to produce water and electricity."
PEMFCs are becoming profitable in niche commercial markets such as industrial vehicles (e.g. forklifts). There are also applications for stationary/backup power.
New federal funding announced for Dr. Easton's fuel cell research
Through a new Strategic Partnership Grant from the Natural Sciences and Engineering Research Council of Canada (NSERC), the Associate Professor with the university's Faculty of Science will explore water and ion transport in ceramic carbon electrodes for fuel cells. The NSERC project ($363,350 over three years) includes industry support from PEMFC technology global leader Ballard Power Systems Inc. of Burnaby, British Columbia, and academic collaboration with researchers at Simon Fraser University (SFU) in Burnaby.
"The technology could be more widely deployed if we can discover how to improve the performance-to-cost ratio of the materials in the fuel cells," says Dr. Easton. "The real opportunity involves a new low-cost technology called sulfonated silica-based ceramic carbon electrodes (SS-CCE). Fuel cells made with SS-CCE display excellent performance and superior tolerance to dry operating conditions compared to conventional fuel cell materials. Fuel cell performance suffers severely if they are not well hydrated."
UOIT historic fact: Dr. Brad Easton's award is just the second NSERC Strategic Partnership Grant to be led by a UOIT researcher.
Dr. Easton's SS-CCE research began nearly a decade ago through an NSERC Discovery Grant. Much of the initial work was done by 2015 UOIT PhD graduate Jennie Eastcott, who also completed her undergraduate studies at UOIT. Dr. Eastcott is now a postdoctoral fellow at SFU and holds a prestigious Mitacs Elevate postdoctoral fellowship supported by Automotive Fuel Cell Cooperation.
"The outcomes of this research have major implications for improvement on the operating lifetime of fuel cells and in aiding the design of materials that are more durable," says Dr. Easton. We want to determine if these novel materials meet the durability requirements for commercial deployment of the next generation of fuel cells by companies like Ballard."
Quotes:
"We appreciate NSERC's recognition of the novel research plans and impressive track record of Dr. Easton and his colleagues. We are very proud of his achievements and look forward to significant advances in fuel cell design through this collaborative project."
-Greg Crawford, PhD, Dean, Faculty of Science 
"Strategic Partnerships connect companies and governments with Canada's brain trust to advance research in areas where we can be a world leader. By accessing deep research expertise, these collaborations can help provide tangible outcomes to solve fundamental societal and economic issues."
-Dr. B. Mario Pinto, President, Natural Sciences and Engineering Research Council of Canada
About NSERC
NSERC invests over $1 billion each year in natural sciences and engineering research in Canada. Our investments deliver discoveries, valuable world-firsts in knowledge claimed by a brain trust of over 11,000 professors, world-leading researchers in their fields. Our investments enable partnerships and collaborations that connect industry with discoveries and the people behind them. Researcher-industry partnerships established by NSERC help inform R&D, solve scale-up challenges and reduce the risks of developing high-potential technology.
Our investments provide scholarships and hands-on training experience for the next generation of science and engineering leaders in Canada, more than 30,000 post-secondary students and post-doctoral fellows.
---
Media contact
Bryan Oliver
Communications and Marketing
Ontario Tech University
905.721.8668 ext. 6709
289.928.3653
bryan.oliver@uoit.ca