Electric vehicle tour EcoRun rolls into UOIT on June 2
Automotive journalists bringing eco-friendly cars for stop at ACE
May 31, 2016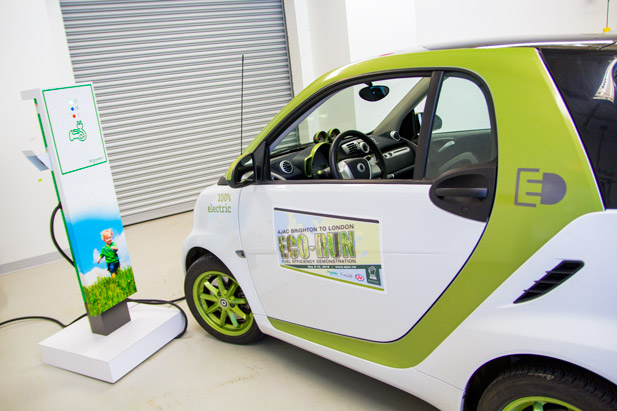 The Automobile Journalists Association of Canada (AJAC) will bring a convoy of the latest fuel-efficient and eco-friendly vehicles on the market to the University of Ontario Institute of Technology (UOIT) on Thursday, June 2.
AJAC's visit to the university is part of 2016 AJAC EcoRun, a two-day Toronto-to-Ottawa trek that brings fuel-efficient technologies to local communities to help inform consumers of alternative vehicle options. The 2016 AJAC EcoRun stop at the university will give journalists a chance to explore ACE, a multi-purpose testing and research centre that features a massive climatic wind tunnel and other dynamic test chambers. ACE will also use the window to recharge some of the EcoRun vehicles.
The 27-vehicle 2016 AJAC EcoRun fleet include pure electrics, plug-in and conventional hybrids, hydrogen fuel cells, diesel-fueled powertrains and highly-efficient gasoline options. There's no limit to the size of vehicle showcased, as they range from subcompacts to pickup trucks. These new vehicles are driven on real-world road conditions in order to fully test for fuel efficiency and the reduction of carbon dioxide emissions.
What: 2016 AJAC EcoRun stop at ACE
When: Thursday, June 2 from 11 a.m. to 1:30 p.m.
Where:
ACE at the University of Ontario Institute of Technology
2000 Simcoe Street North
Oshawa, Ontario
Reporters are asked to RSVP.
Helpful links:
The visit to ACE in Oshawa is the first EcoRun stop after the opening ceremony at the Evergreen Brickworks in Toronto. After Oshawa, the other 2016 AJAC EcoRun stops are: Cobourg, Belleville, Kingston, Brockville and Ottawa. The distance between each stop has been kept below 116 kilometers to accommodate the range on some of the electric vehicles and for access to charging infrastructure.
Media contacts:
Bryan Oliver
University of Ontario Institute of Technology
905.721.8668 ext. 6709
289.928.3653 (cell)
bryan.oliver@uoit.ca
Colin Howard
Marketing Specialist and Account Manager
ACE - University of Ontario Institute of Technology
289.688.0930
colin.howard@uoit.ca