Lieutenant Governor tours UOIT's clean energy research labs
May 31, 2016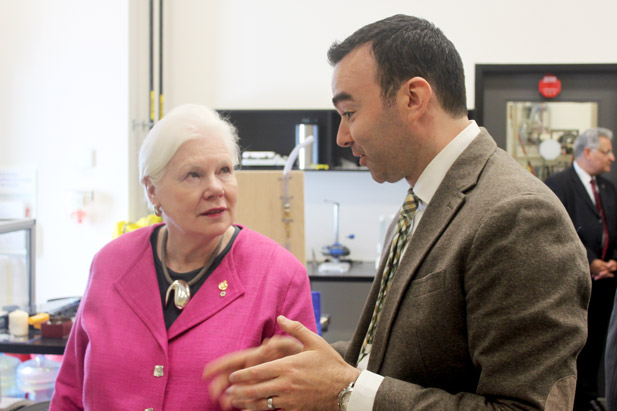 It was a homecoming of sorts for the Lieutenant Governor of Ontario on May 20 as the Honourable Elizabeth Dowdeswell, OC, OOnt paid a visit to the University of Ontario Institute of Technology (UOIT). As part of a series of official events in the City of Oshawa, the Lieutenant Governor toured the university's Clean Energy Research Laboratory (CERL) as well as selected labs in the Energy Systems and Nuclear Science Research Centre.
Ms. Dowdeswell chatted with the professors leading the university's portfolio of clean and green energy technologies. Among her stops on campus:
The Nuclear Engineering program's nuclear power plant computer simulator – Ontario Power Generation's only off-site virtual simulator in the world, designed for the Pickering and Darlington nuclear-electric generating units.
CERL, where UOIT researchers are working on the world's first lab-scale demonstration of hydrogen production using a copper-chlorine (Cu-Cl) cycle for thermochemical water splitting. The byproducts of the Cu-Cl cycle are hydrogen, oxygen and water. Traditional hydrogen production comes from the burning of hydrocarbons, where one of the byproducts is the emission of carbon dioxide. 
Ms. Dowdeswell has deep connections to global science and technology issues. Prior to becoming Lieutenant Governor, she served as Executive Director of the United Nations Environment Program and Under-Secretary-General of the United Nations. She was also Assistant Deputy Minister, Ministry of the Environment, responsible for Canada's national weather and atmospheric agency, and founding President and CEO of Canada's Nuclear Waste Management Organization.
In 2013, the university presented Ms. Dowdeswell with an honorary Doctor of Science degree from UOIT in recognition of her inspirational leadership and dedication to environmental advocacy, and the considerable impact her efforts have had on public policy.
Ms. Dowdeswell was appointed Ontario's 29th Lieutenant Governor in September 2014. She is the third woman to serve in the position.