Kids enjoy a free day of discovery at Science Rendezvous 2016
June 7, 2016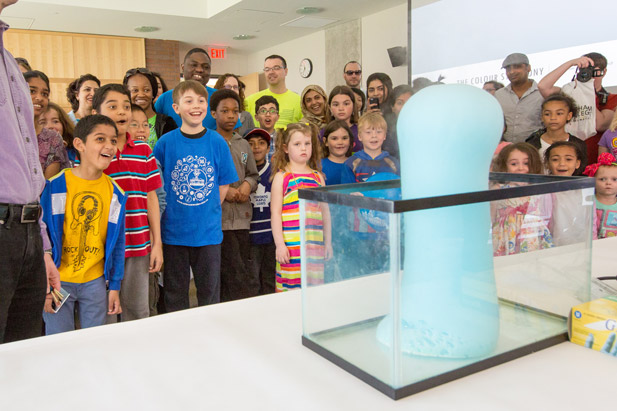 Close to 700 aspiring young scientists and community members discovered how fun science can be during Science Rendezvous 2016, hosted May 7 at the University of Ontario Institute of Technology's (UOIT) and Durham College's (DC) shared Oshawa campus.
This year's activities included Mission: Monarch Migration, which highlighted the important role milkweed plants play in the transformation of the monarch caterpillar into an adult butterfly.
"This was such a great initiative to help draw attention to the challenges monarch butterflies face," explained Annette Tavares, Science Rendezvous Co-organizer and Senior Lecturer with the university's Faculty of Science. "Milkweed is the sole source of food for monarch caterpillars, and it provides a place for adult monarchs to lay their eggs. But land development and widespread use of weed killer is making this plant disappear, destroying habitats and causing the monarch butterfly population to dwindle. We wanted to show Science Rendezvous participants how they can help address this problem."
Participants planted 50 milkweed plants on campus to conserve the butterflies' habitat, and they learned how to plant their own butterfly/pollinator gardens at home to attract butterflies. Science Rendezvous organizers handed out 150 milkweed plants for participants to add to their own gardens. They have also set up a Mission: Monarch Migration Facebook page, where participants can:
Share photos of their growing plants and the monarchs they attract.
View photos showing the growth progress of the milkweed plants on campus.
Find additional information about monarch butterflies.
Additional event highlights:
A tour of ACE, a performance-testing facility featuring one of the largest and most sophisticated climatic wind tunnels on the planet.
Creating a cloud in the bottle with the help of a bicycle pump and a little bit of rubbing alcohol.
A simulation showcasing the university's Faculty of Science Assistant Professor Dr. Hendrick DeHaan's research spanning biology, physics and computer technology.
A chance to wear a virtual reality headset with an attached motion sensing device to experience how we will interact with computers and the Internet in the future.
Cool catapult challenges.
Experiments – Candy Bombs, Dry Ice Rainbows, Glowing Crystals, Magic Monster Slime
Other exciting, hands-on events included INVENTours and Science Cavalcade; Science Jeopardy; mini-workshops and the opportunity to explore LEGO Robotics and help solve the Graffiti Mystery in the Forensic Fun Zone.
The day concluded with a game of Science Jeopardy, where participants answered questions based on the knowledge they gained throughout the day by visiting the different exhibits.
Participant feedback was overwhelmingly positive. "My aunt lives in Toronto and she chose to bring her son here because our Science Rendezvous seemed to have more interactive opportunities for him," said Emma-Mary Blackwood, Administrative and Programs Assistant, Student Experience Centre, UOIT. "My seven-year-old cousin said it was the best 'sciencey-experiementy' thing he's ever done!"
Science Rendezvous is a free, all-day event that promotes science awareness for all ages. It is part of the nationwide Science Rendezvous celebration held at post-secondary institutions across Canada.
Gallery