UOIT researcher pumped about Ontario's plans for natural gas fuelling stations
June 8, 2016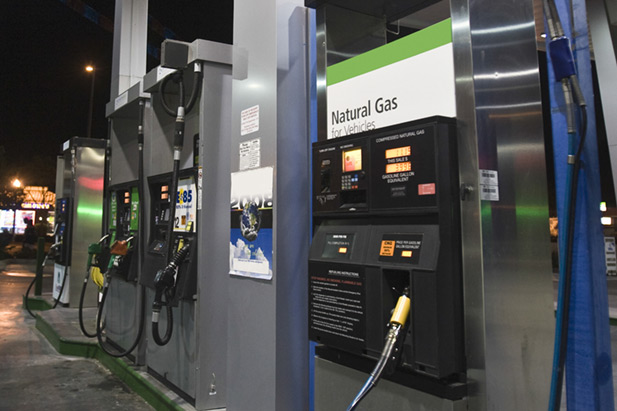 The Province of Ontario's new Climate Change Action Plan calls for a creation of new infrastructure to encourage the trucking industry to phase out use of diesel and gasoline, in favour of natural gas.
University of Ontario Institute of Technology (UOIT) researcher Dan Hoornweg, PhD, is among those supporting the plan to expand use of natural gas as a truck (transportation) fuel.
"Trucking companies have indicated a willingness to make the switch to natural gas, but the industry needs access to a network of natural gas fuelling stations across the province," says Hoornweg, Richard Marceau Research Chair, and Associate Professor, UOIT Faculty of Energy Systems and Nuclear Science. "It's a less expensive fuel for transport companies, just as convenient, with less local air pollution. But most importantly, natural gas will reduce the carbon footprint of the transportation industry by some 30 per cent."
Quick facts:
Greenhouse gas emissions from freight trucks in Canada increased by 132 per cent between 1990 and 2014.
Freight trucks accounted for about 60 megatonnes of greenhouse gas emissions in 2014, the largest amount for any vehicle category.
Source: Environment and Climate Change Canada (2016) National Inventory Report 1990-2014
The natural gas strategy for trucks is just one component of Ontario's climate change action plan. The province will invest up to $100 million to help suppliers of natural gas to establish the fueling station network. The plan does not call for a ban on natural gas or fossil fuels for home heating.
"Even more importantly is the aggressive push to move drivers to electric vehicles (EV) will serve Ontarians and the climate change fight well," says Hoornweg. "With Ontario's low-carbon electricity (with nuclear and hydro), switching to EVs is an important initiative."
Ontario's shift toward cleaner energy technologies aims to cut the province's greenhouse gas emissions by 15 per cent from 1990 levels by 2020, and by 80 per cent by 2050.
Media contact:
Bryan Oliver
University of Ontario Institute of Technology
905.721.8668 ext. 6709
289.928.3653 (cell)
bryan.oliver@uoit.ca