Bridging the digital divide: University takes do-it-yourself 'maker' learning lab on the road
University of Ontario Institute of Technology driving new approaches to classroom learning
May 23, 2017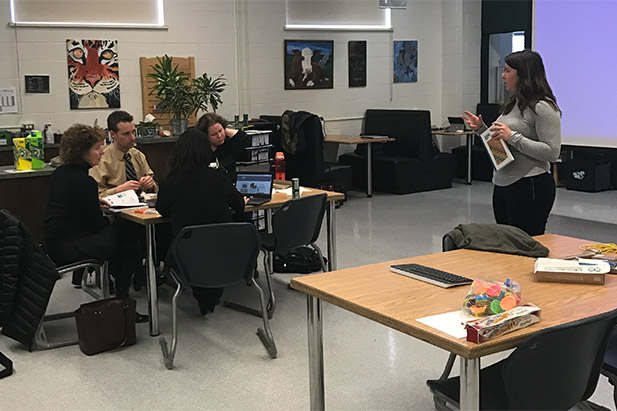 One in five children in Ontario lives in poverty. The rate more than doubles for children who come from female-headed, single-parent households, and children of First Nations, Métis, Inuit (FNMI), racialized, and new immigrant families. More than half of all undergraduate university students in the province are women, yet women earn just 18 per cent of all engineering degrees.
In education circles, it's called the 'digital divide': Ontario's widening and undeniable relationship between income and the acquisition of digital literacy skills. At the University of Ontario Institute of Technology, researcher Janette Hughes, PhD, looks for ways to improve Kindergarten to Grade 12 female, racialized and at-risk students' learning experiences to enhance the likelihood of them reaching―and graduating from―university.
"Unfortunately, many schools and classrooms do not have the resources or financial support to allow for the technologies needed to boost digital literacy among youngsters," says Dr. Hughes, Professor and Canada Research Chair in Technology and Pedagogy with the university's Faculty of Education in Oshawa, Ontario. "In response, we are pioneering a Mobile Maker Lab, a rolling classroom packed with real-world applications to help students in high-need schools develop skills and competencies that will benefit them in their future."
The do-it-yourself 'maker' culture combines art and design with traditional science and technology disciplines for a more holistic creative and inventive classroom learning experience. The lab offers teachers and students the opportunity to explore various technologies, including 3D printing, robotics, circuitry and virtual/augmented reality.
Prime Minister Justin Trudeau and former U.S. President Barack Obama champion maker approaches to education.
"The Mobile Maker Lab gives teachers the resources necessary to incorporate science, technology, engineering, arts and math (STEAM) into the curriculum," says Dr. Hughes, a former secondary school teacher with the Durham District School Board and one of the driving forces in this field of research. "Students gain equal access to rich learning experiences to study vital 21st-century skills from an all-female team of Ontario College of Teachers certified instructors. The lab delivers effective, curriculum-based lessons to students and highlights the role women can play as leaders in STEAM disciplines."
Along with her research team, Dr. Hughes works with beginning and experienced teachers, administrators and students in the Faculty of Education's STEAM 3D Maker Lab. When the demand for maker sessions in schools became obvious, the team established the Mobile Maker Lab. The team also employs graduate students and research assistants, as they evaluate how well the makerspace approach works with students. 
About the Faculty of Education
As its name states, the University of Ontario Institute of Technology specializes in technology and the advancement of technology in a number of different disciplines, including education. Since opening in 2003, the Faculty of Education has developed well-informed and socially responsible educational leaders and made optimal uses of new and emerging digital technologies for learning. Over the years, professors and students within the faculty have focused research on the incorporation of technology into classrooms.