Celebrating 10 years of scientific curiosity and inspiration at Science Rendezvous 2017
June 6, 2017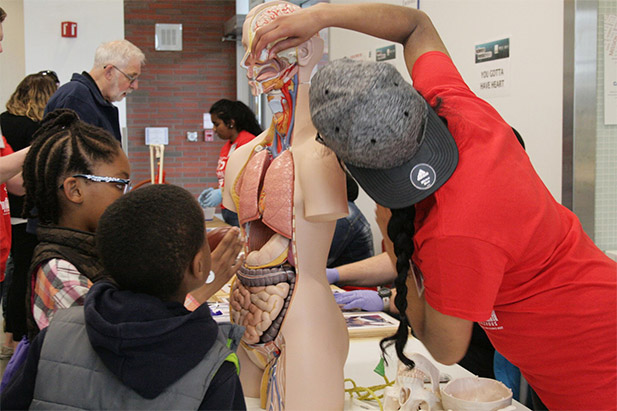 More than 900 aspiring scientists of all ages experienced just how fun science and engineering can be at the 10th-annual Science Rendezvous, hosted May 13 at the University of Ontario Institute of Technology's and Durham College's (DC) shared Oshawa campus.
"The University of Ontario Institute of Technology was one of the founding partners for the first Science Rendezvous in 2008," says Annette Tavares, Science Rendezvous Co-organizer and Senior Lecturer with the university's Faculty of Science. "From the beginning, our goal has been to help the public better understand how science affects our daily lives by giving them a chance to meet university scientists face-to-face and get a behind-the-scenes look at scientific research on campus. The event has grown in size, popularity and scope over the years. We started with 75 people in 2008, and attendance tripled the following year; this year's attendance was our highest ever. The university looks forward to many more years of showcasing the wonders of science and engineering through Science Rendezvous."
This year's new INVENTours (hands-on activities/demonstrations) included:
Fossil Frenzy: Participants got in touch with their inner paleontologists, by making dinosaur hats and searching for real invertebrate fossils.
Plasma Globe: Guests made light patterns using their fingers, lit up a light bulb without plugging it in, and learned the physics behind how this happens.
Pollinator Pals: Guests learned to construct solitary bee houses and took home native wildflower seeds they can plant to encourage pollinators to visit their gardens.
Sand Tracer: Participants learned about harmonic motion while watching as a sand pendulum created beautiful geometric patterns called Lissajous Curves.
Several other activities were back by popular demand:
Launching pop bottle rockets using only water and air, and seeing which one goes the furthest.
Learning about kinetic energy (the energy an object possesses due to its motion or movement) by watching how a vortex cannon makes air move in 'chunks' and exert force on other objects.
Watching a liquid nitrogen ice cream demonstration, and then using salt, water, and cream to make ice cream from scratch—all while learning about freezing point depression (the process of lowering the freezing point of a liquid by adding another substance to it).
A chance to wear a virtual reality headset with an attached motion-sensing device to experience how we will interact with computers and the Internet in the future.
Other exciting, hands-on events included mini-workshops and the Science Chase, an 'Amazing Race'-style science challenge for high school students. In the Forensic Fun Zone, participants helped figure out who stole the Dean of Science's iPhone.
The event concluded with a Grand Finale Celebration, complete with cake, music and prizes, in honour of Science Rendezvous' 10th anniversary and Canada's 150th birthday.
Gallery