Ontario universities key to economic prosperity
COU report points to $115.8 billion in impact on province's economy
July 19, 2017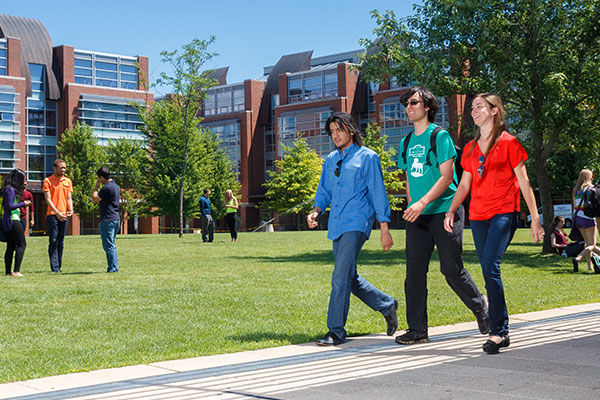 Strong communities, economic growth and talented leaders: these are just some of the ways in which Ontario's 21 universities strengthen our province, according to a Council of Ontario Universities (COU) report released July 18.
The report, entitled Driving a Prosperous Future: Economic Analysis of the Lasting Impact of Ontario Universities, found Ontario's universities contribute $115.8 billion to the province's economy each year. This includes:
Spending by universities, students, visitors and alumni showing ripple effects through the provincial economy and creating 478,000 jobs ($42.4 billion).
The premium income earned by university graduates who are a fundamental part of Ontario's highly skilled workforce ($48.7 billion for all Ontario university grads working in the province).
The economic impact of the world-class research conducted at Ontario universities, above and beyond its benefits to health and technologies ($24.7 billion).
The COU's findings correspond with a 2015 report highlighting the significant economic impact of the University of Ontario Institute of Technology across Ontario and especially in Durham Region and Northumberland County. Key findings included:
For every dollar of base funding, the University of Ontario Institute of Technology generates $3.60 of spending impacts across Ontario.
In 2014-2015, the university's spending contributed almost $205 million to Ontario's gross domestic product.
In the same period, the university generated and supported 1,949 jobs across the province. More than two-thirds of these jobs are in Durham Region and Northumberland County.
All surrounding areas benefit from the university's activities. The economic impact is widely distributed across the constituent municipalities and townships.
Additional impact
Measuring economic impact helps to understand how Ontario's universities enrich the economy, contribute to growth and provide opportunities to those who live, work, learn and invest in Ontario—but that's only part of the story.
Through research, universities address complex issues facing our communities, and through partnerships with businesses, communities and governments, they equip students with skills to succeed in today's workforce.
As the province prepares to face challenges and disruptions in the years ahead, the impact of universities will prove more important than ever in ensuring all Ontarians thrive.
Helpful links:

Media contact:
Patricia Pickett
Communications and Marketing
University of Ontario Institute of Technology
905.721.8668 ext. 6710
patricia.pickett@uoit.ca