Small businesses: tap into local expertise to develop robotic and automation products
Spark Innovation Centre, UOIT and Durham College resume exciting program supporting business competitiveness
October 19, 2017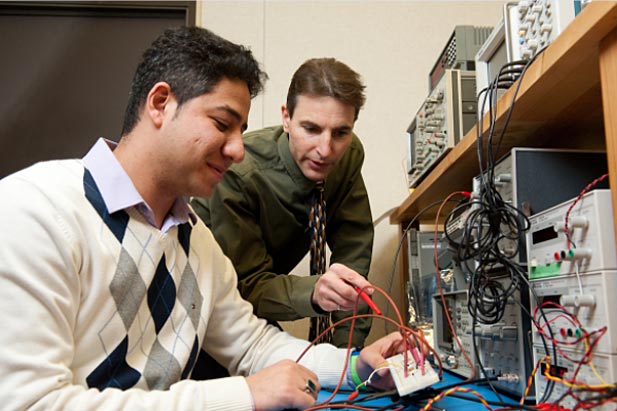 Is your small business looking for support with a marketing plan or with developing products focused on robotics, automation or controls? Spark Innovation Centre, the University of Ontario Institute of Technology (UOIT) and Durham College (DC) are working together to provide that help.
Through funding from the National Research Council Industrial Research Assistance Program (NRC-IRAP), local companies can tap into a variety of services to receive assistance with:
development of a business/marketing plan
modification of control software
prototype design/development
The re-launched program builds on the success of last year's inaugural program, which assisted 11 local companies with technical and business challenges. Successful applicants will have access to leading research and testing facilities on the shared DC-UOIT Oshawa campus, such as the university's ACE Climatic Wind Tunnel and the college's faculty expertise.
To qualify, companies must be incorporated and have fewer than 15 employees. Projects are eligible for up to $10,000 of support. Applications are assessed on suitability for the program and each organization's capacity to complete its project.
Deadline for applications: Tuesday, October 31.
Projects must be completed by Wednesday, March 15, 2018.
Interested companies can apply using the downloadable application form and following the submission instructions.
Quote
"The robotics and automation grant program provided Turnkey Aquaponics with the opportunity to collaborate with local academic partners to further and enhance our designs. This was a vital avenue for our product development, as we were able to achieve validation of our designs. This would have not been possible without the knowledge and experiences shared by the program's academic experts."
-Michael Veneziano, Turnkey Aquaponics Inc. (2016-2017 NRC-IRAP program participant)
About the NRC Industrial Research Assistance Program
The National Research Council-Industrial Research Assistance Program (NRC-IRAP) is Canada's premier innovation assistance program for small and medium-sized enterprises (SMEs). It is a vital component of the NRC, a cornerstone in Canada's innovation system, regarded worldwide as one of the best programs of its kind.
Program inquiries:
Alison Burgess
Senior Research Partnerships Officer
University of Ontario Institute of Technology
905.721.8668 ext. 6229
alison.burgess@uoit.ca
Michelle Shurland-Jadoo
Operations Analyst
Spark Innovation Centre
905.432.3999
mshurlandjadoo@sparkcentre.org
Media contact:
Bryan Oliver
Communications and Marketing
University of Ontario Institute of Technology
905.721.8668 ext. 6709
bryan.oliver@uoit.ca