Strategic information technology and innovation leader appointed new Dean of Business and Information Technology
Michael Bliemel joins university's leadership team July 1, 2018
December 8, 2017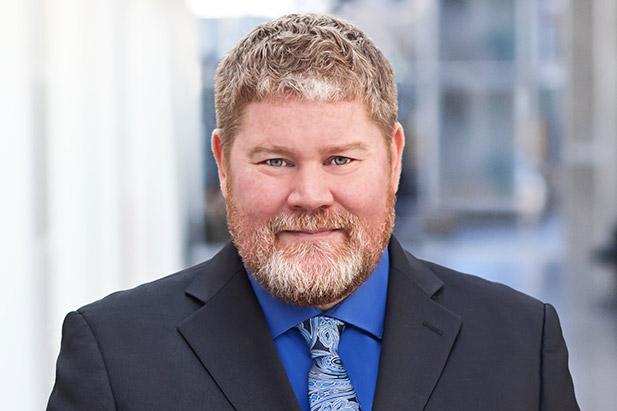 The University of Ontario Institute of Technology announces the appointment of Michael Bliemel, PhD, as Dean of the Faculty of Business and Information Technology, effective July 1, 2018.
Dr. Bliemel is an academic leader with diverse interdisciplinary research expertise on the impacts of new technologies, such as geospatial information systems, augmented reality, the gamification of learning, consumer behavior, data literacy and analytics education.
He joins the university from Dalhousie University's Rowe School of Business in Halifax, Nova Scotia where he was a Professor of Management Information Systems, and Area Co-ordinator for Technology, Innovation and Entrepreneurship. He has collaborated with analytics developers around the globe to build connections among academia, business and government on topics of analytics, digital literacy and digital transformation. He is a member of North American SAP University Alliances Academic Board, and an Executive Board member of the IBM Watson Analytics Global Academics Network.
Dr. Bliemel received his PhD in Management Information Systems from McMaster University's DeGroote School of Business in Hamilton, Ontario. He has a master's degree in Management Studies focusing on innovation management from Carleton University's Sprott School of Business in Ottawa, Ontario, and a Bachelor of Engineering in Mining Engineering from Queen's University in Kingston, Ontario.
An award-winning teacher, he taught undergraduate and graduate courses at Dalhousie in enterprise systems and business analytics as well as executive education on big data analytics. Dr. Bliemel also trained other professors in SAP workshops. He is known for coaching student teams to success at business and information technology (IT) competitions.
His direct work with developers of new analytics tools and platforms helped bring Dalhousie valuable new software and cloud services, and opened career opportunities for graduates at IT companies, consulting firms, banks, retail organizations and startups.
Dr. Bliemel will succeed Pamela Ritchie, PhD, whose second five-year term as Dean concludes June 30, 2018.
Quotes
"The University of Ontario Institute of Technology is positioned to become an influential Canadian leader in digital transformation, and in innovating and creating disruptive business technologies. Through industry collaboration in teaching and research, I am excited to continue building programs taught by the best-informed and most-connected professors, and to help students become successful alumni working at the forefront of technology and business."
-Michael Bliemel, PhD, Future Dean, Faculty of Business and Information Technology
"Dr. Michael Bliemel's knowledge of organizational strategy, processes innovation and systems design, makes him an ideal fit as our university's Dean of Business and Information Technology. His outstanding record of creating great learning opportunities for students, his passion for innovation in education and his scholarly expertise as a researcher will inspire student success and move the faculty forward in exciting new directions."
-Robert Bailey, PhD, Provost and Vice-President, Academic (Interim), University of Ontario Institute of Technology
About the University of Ontario Institute of Technology
As one of Canada's newest research universities, the University of Ontario Institute of Technology advances the discovery and application of knowledge through a technology-enriched learning environment and the delivery of innovative market-driven programs responsive to the needs of students and industry. With more than 10,000 undergraduate and graduate students enrolled in more than 100 programs, the university promotes social engagement, fosters critical thinking and integrates outcomes-based learning experiences inside and outside the classroom. The university's commitment to accelerating economic growth and social innovation is realized through faculty research collaborations with leading organizations such as Ontario Power Generation, IBM, The Hospital for Sick Children (SickKids) and the Durham Regional Police Service. To find out more, please visit uoit.ca.  
---
Media contact
Bryan Oliver
Communications and Marketing
Ontario Tech University
905.721.8668 ext. 6709
bryan.oliver@uoit.ca