Experts decode the history and future of cryptography
Faculty of Science's March 2 event will explain the mystery behind the 'Enigma Machine'
February 9, 2018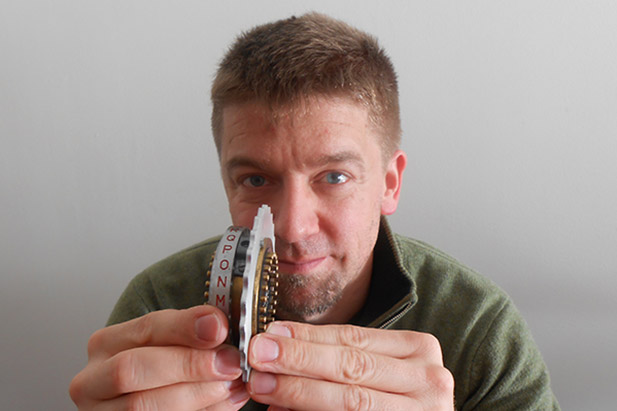 From intelligence experts in World War II to fictional secret agents like James Bond, to 'cryptocurrency' such as Bitcoin, cryptography and cryptanalysis combine to fascinate contemporary culture.
On Friday, March 2, the University of Ontario Institute of Technology's Faculty of Science welcomes two leading international experts to unlock the mysteries behind the use of codes and ciphers to protect secrets:
Peter Berg, PhD, Professor of Mathematics and Physics, and Chair of the Department of Science, University of Alberta (formerly with the University of Ontario Institute of Technology's Faculty of Science)
Richard Brisson, leading cryptology expert and retired analyst with the Communications Security Establishment, Government of Canada
In this free event, both speakers will explore the history and workings of the 'Enigma Cipher Machine', an electrical device used by Germany's military before and during World War II.
While displaying vintage photos and demonstrating the Enigma's functionality on-stage, Berg and Brisson will explain how Polish mathematicians solved the machine's message patterns in the 1930s and passed that knowledge to the Allies at a crucial period of the war. They will also discuss Oshawa's and Canada's connection to the Enigma and its influence on popular culture.
Fast-forwarding to the present and future:
University of Ontario Institute of Technology master's degree graduates Jonathan Gillett (Software Engineering, 2017) and Wesley Taylor (Computer Science, 2018) will examine the modern day manifesto of cryptography in a new form of currency. Gillett and Taylor are co-founders of investabit.com, an algorithmic cryptocurrency trading platform. 
The evening will include audience participation in crowd-based cryptocurrency mining inside the Regent Theatre.
What:
Decoding the History and Future of Cryptanalysis
When:
Friday, March 2 at 7 p.m.
Presentation begins at 7:30 p.m.
Where:
University of Ontario Institute of Technology
Regent Theatre
50 King Street East
Oshawa, Ontario
Parking:
Street and lot parking in downtown Oshawa is free after 6 p.m.
Media contact:
Bryan Oliver
Communications and Marketing
University of Ontario Institute of Technology
905.721.8668 ext. 6709
289.928.3653 (cell)
bryan.oliver@uoit.ca