As good as gold: University's workplace wins recognition from Region of Durham
March 22, 2018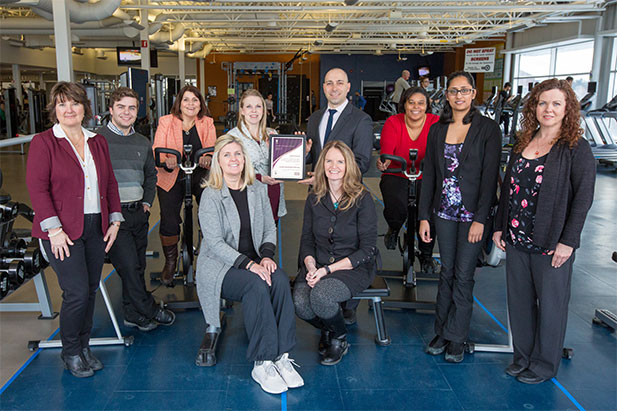 Now five years old, the University of Ontario Institute of Technology's Healthy Workplace Committee (HWC) drives and champions an impressive list of campus initiatives in support of employee health.
Composed of faculty and staff representatives from various departments, offices and faculties, the ongoing work of the HWC has drawn plenty of attention in the broader community.
For the fourth consecutive year, the HWC's efforts have earned the university a Healthy Workplace Award (Gold category) from the Regional Municipality of Durham's Health Department.
The Health Department's award recognizes area workplaces for comprehensive workplace wellness programming covering such health-related topics as: healthy eating, physical activity, tobacco-free living, sun safety, alcohol, mental health and cancer screening, among others. Workplaces can also apply for 'honours' recognition at each award level by using additional strategies, such as developing a health plan in collaboration with a public health nurse.
2017 Healthy Workplace Committee initiatives included:
Biometric screening
Campus Connected Movement workshops
Health and Wellness Fair (in support of Canada's Healthy Workplace Month)
Just for the Health of It Photo Contest (summer; Canada 150 theme)
Nutrition workshop (Importance of Reducing Salt in Your Diet)
Summer Yoga in Polonsky Commons events
Webinar: Is Happiness a Journey?
Weight Watchers at Work
Quote
"The University of Ontario Institute of Technology is committed to being a healthy, safe and supportive place for work and study. Inspiring everyone to do their best work includes helping employees learn more about how to make healthy choices. We are proud the receive the Region of Durham's accolades recognizing the quality and variety of resources and programs we offer to promote the physical and emotional wellness of our faculty and staff."
-Jamie Bruno, Assistant Vice-President, Human Resources
Gallery