Campus community mourns the passing of Durham Regional Chair Roger Anderson
March 26, 2018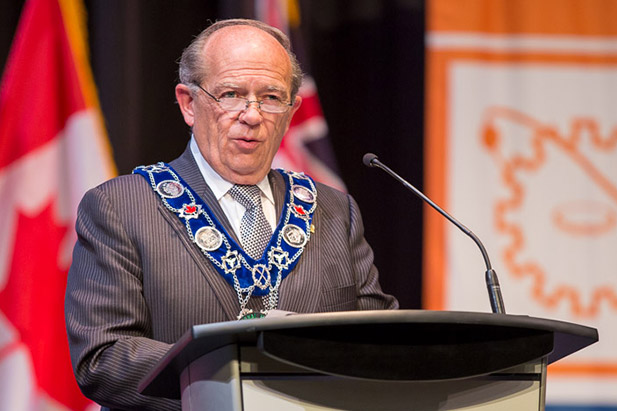 The University of Ontario Institute of Technology and Durham College are deeply saddened by the passing of Durham Regional Chair and university benefactor, Roger Anderson.
A long-time advocate for post-secondary education and a benefactor of both the university and college, Anderson made a profound impact on students at both institutions through his charitable initiative, the Roger Anderson Charity Classic golf tournament, which celebrated its 20th anniversary in 2017 and reached a milestone of more than $6 million raised to support local youth.
Anderson was Durham's longest-serving Regional Chair and was the first person to be directly elected into the role in 2014. Prior to his terms as Regional Chair, Anderson served as a constable on the Durham Regional Police Service (DRPS) from 1978 to 1988 and as a broker with a local real estate business. He also served as Regional Councillor and Deputy Mayor for the Town of Ajax from 1991 to 1997.
Anderson was Chair of the Durham Region Transit Commission since its inception on January 1, 2006 and served several terms as Chair of the DRPS Board. He was active in the Association of Municipalities of Ontario (AMO) for 25 years, including a two-year term as president.
In honour of Chairman Anderson's life, the university's flags will be lowered on the day of his funeral , Thursday, March 29.
Quotes
"I share the condolences of our entire university community with the Anderson family. For two decades, the Roger Anderson Charity Classic raised more than $6 million to support local youth, including over 1.6 million towards scholarships for our students at the University of Ontario Institute of Technology. His legacy of generosity and leadership lives on in the lives of our students and alumni."
-Steven Murphy, PhD
President and Vice Chancellor, University of Ontario Institute of Technology
"Roger and his family are in the thoughts of the Durham College community across the region and well beyond. Each year, through Roger's generosity, the college bestows more than 100 awards, totaling $2.5 million, to students who might otherwise not have the means to pursue a post-secondary education. He recognized the connection between such opportunity and the pride and prosperity of Durham Region and hoped beneficiaries would go on to offer other students a hand up in their own way. This is the spirit in which we will carry forward Roger's legacy."
-Don Lovisa
President, Durham College