Extreme weather research at ACE is more than cool: It's ice cold!
Engineers and scientists testing the microphysical properties of ice crystals, fog, rain and snow
April 25, 2018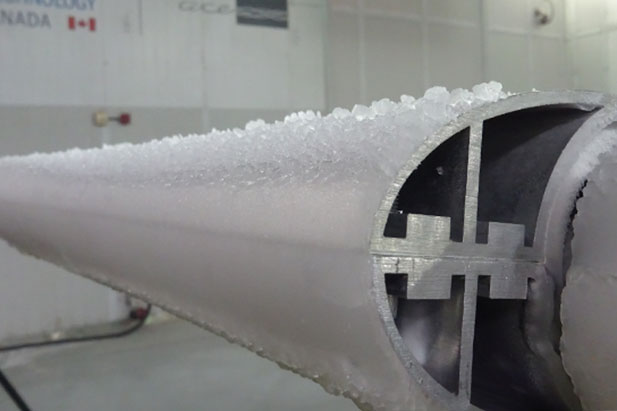 When it comes to research and testing in extreme weather conditions on any day of the year, no facility tops ACE at the University of Ontario Institute of Technology (UOIT).
The ACE Climatic Wind Tunnel's (CWT) massive, adjustable semi-open air jet delivers wind velocity in excess of 250 kilometres per hour with precise temperatures as cold as a bone-chilling -400C. In combination with its water spray nozzle array system, the CWT can create the heavy and blowing snow conditions of a blizzard, freezing rain for ice accretion on objects, or the torrential rain of a hurricane.
In partnership with Environment and Climate Change Canada (ECCC), ACE is now taking its extreme weather tools to an even higher level of sophistication to widen the range of conditions that can be simulated.
ECCC is studying the microphysical characteristics of water droplets, ice crystals and snow particles produced in the CWT. The research goal is to validate and compare the properties of 'experimental' weather conditions with 'real' atmospheric conditions observed at the PanAm and UOIT Meteorological Supersite (PUMS) station (located about one kilometre north of ACE).
"Whether on roads, in the air or on the ocean, all vehicles need to operate safely and efficiently in adverse or hazardous weather," says Gary Elfstrom, Director, Business Development, ACE. "With the advent of autonomous vehicles, this has never been more important."  
Engineers are using different spray nozzle sizes to coat wing (airfoil) shapes with glazed ice (smooth, transparent) and rime ice (rough, opaque) and validating particle shape, size and concentration with various spectral sensors. Planned upgrades in the CWT include a heated air jacket around each spray nozzle to prevent premature freezing of water droplets before they contact the test object.
"Traditional water-ice particle studies have required remote sensing techniques and in-cloud observations, but these rely on indirect observations, instrumental uncertainties and assumptions, and they are very expensive," says Ismail Gultepe, Arctic Research Scientist, ECCC. "Inside ACE we've detected particles as small as two microns and as large as one centimetre. This gives us high confidence we are observing the true thermodynamics of such conditions as ice fog, frost, freezing fog, icing and heavy snow. These conditions will provide new testing methods for extreme weather conditions."
ECCC findings will guide the expansion of future ACE CWT spray systems to simulate with high accuracy the super-cooled weather droplet and solid precipitation conditions of 'icing clouds' aircraft often encounter in-flight.
---
Media contact
Bryan Oliver
Communications and Marketing
Ontario Tech University
905.721.8668 ext. 6709
289.928.3653
bryan.oliver@uoit.ca