Groundbreaking Science researchers recognized with provincial funding awards
April 16, 2018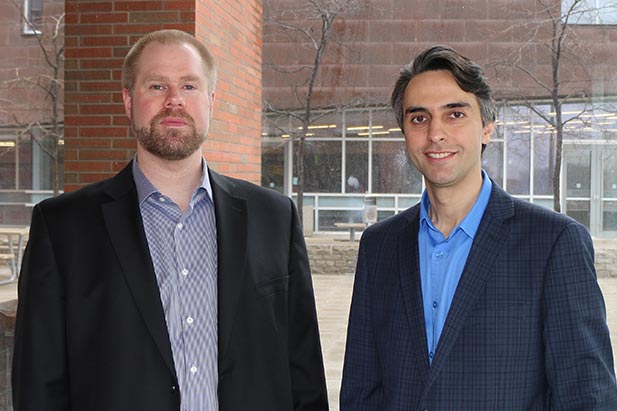 Innovative pharmaceutical chemistry and food safety research at the University of Ontario Institute of Technology has led to new provincial funding for two Faculty of Science experts.
Yuri Bolshan, PhD, and Hendrick de Haan, PhD, are among this year's provincial recipients of Ministry of Research, Innovation and Science (MRIS) Early Researcher Awards (ERA). The program provides funding for recently appointed Ontario faculty to pursue groundbreaking work. 
Funded projects
Yuri Bolshan, PhD, Assistant Professor (Pharmaceutical/Synthetic Organic Chemistry), Faculty of Science
A general methodology for the synthesis of C-nucleosides: from stable analogues of known drugs to the chemical probes of epigenetic protein
In 2012, cancer was the leading cause of disease-related death in children under the age of 15 years. Acute Lymphoblastic Leukemia (ALL) is the most common malignancy diagnosed in children.
Numerous anti-cancer drugs (nitrogen-linked 'nucleosides', a synthetic molecule) require invasive intravenous or intrapleural (inside lungs) administration because they are acid-sensitive and enzymatically unstable. This impacts patients' quality of life and adds burden on the health-care system.
In contrast, carbon-linked nucleosides are stable. Dr. Bolshan's goal is to develop a general methodology for the preparation of carbon-nucleosides and the synthesis of carbon-analogues of known enzymatically unstable anti-cancer drugs.
The proposed program will serve as a medicinal chemistry platform for the development of orally available drugs.
Hendrick de Haan, PhD, Assistant Professor (Physics), Faculty of Science
Simulation and modelling to develop nanopore-based devices capable of protein detection for medical, food safety, and bio-security applications
Dr. de Haan studies molecules and particles at the incredibly small 'nanoscale': objects that are so tiny they are almost inconceivable.
How small is nanoscale? A nanometre is one billionth of a metre. If a nanometre was as long as your shoe, just a single centimetre of that shoe (ten million nanometres) would be about the same length as the driving distance from Toronto to Winnipeg.
Nanopores are nanometre-sized holes in membranes through which biomolecules can be driven. Nanopores can detect individual molecules with high accuracy, and are a promising platform to identify biomolecules including DNA and proteins.
Dr. de Haan's (Computational Nanobiophysics Laboratory) research will model and simulate new nanotechnologies to detect bioagents (ricin, botulinum neurotoxins and prions) that are of significant importance in the fields of security against bioterrorism, food safety, and advanced medical technologies.
In partnership with Ontario's biotech industry, the new ideas generated by this research will yield innovations contributing to the economic growth of Ontario and the increased well-being of Ontarians.