University shares research excellence story with the community
April 23, 2018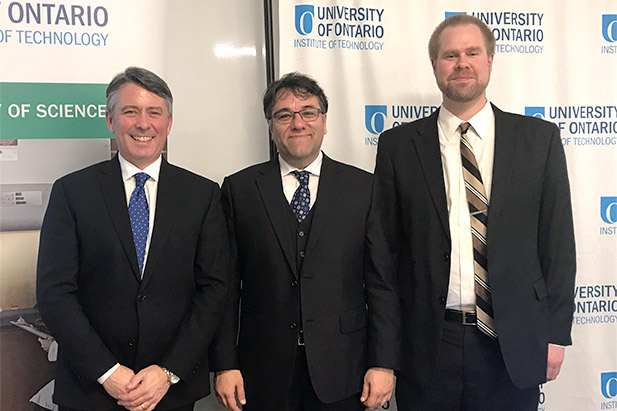 Microsoft Corporation principal founder Bill Gates once said, "I believe in innovation, and the way you get innovation is you fund research and you learn the basic facts." 
The University of Ontario Institute of Technology is one of Canada's newest research universities. Each March, the university stages the Research Excellence Award Speaker Series, where the previous year's winners share their discoveries with the campus community, industry partners and local residents.
This year's event on March 28 featured (video presentations individually hyperlinked):
Pierre Côté, PhD, Canada Research Chair in Disability Prevention and Rehabilitation, and Associate Professor, Faculty of Health Sciences
Hendrick de Haan, PhD, Assistant Professor, Faculty of Science
Shahryar Rahanmayan, PhD, Associate Professor, Faculty of Engineering and Applied Science
Facts about research and innovation at the University of Ontario Institute of Technology:
The campus has attracted stellar academics from the around the world who generate new knowledge and solutions to address today's and tomorrow's societal needs.
With more than 300 industry and community partners, the university's robust and dynamic research culture supports and helps drive economic growth in Durham Region and far beyond.
The university receives more than $12 million in annual research funding.
For every dollar of base funding, the university generates $3.60 in spending impacts across Ontario.
The university's more than 70 specialized research laboratories and facilities include the new Software and Informatics Research Centre (opened 2017), clustering computer scientists, information technology (IT) specialists and engineers in the disciplines of health and business analytics, IT security, networking, game development and software engineering.
Quote
"Community-relevant research makes a difference in people's daily lives. As a research-intensive university, the University of Ontario Institute of Technology is a place of discovery and innovation, and a driver of new knowledge. Research distinguishes who we are as a university and this annual event celebrates excellence in research on our campus."
-Douglas Holdway, PhD, Vice-President, Research, Innovation and International (Interim).