Can modern research address our human health and sustainability challenges?
Symposium explores how clean-tech materials and device technologies will help improve quality of life
May 17, 2018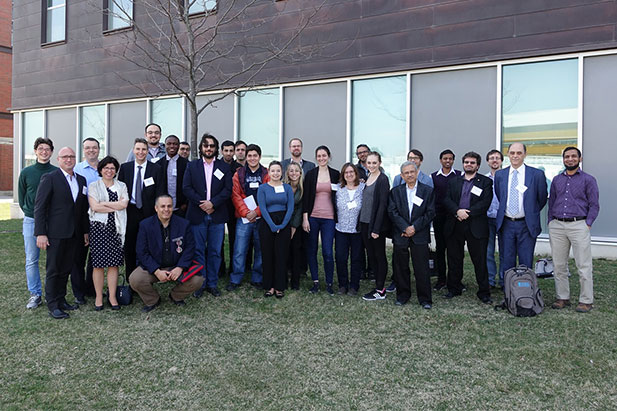 Our society faces a number of challenges: The world's growing population and increasing pace of life puts pressure on the earth's supply of food, fresh water and energy resources. The effects of climate change, coupled with the world's dwindling reserve of fossil fuels, has created an urgent need for more efficient and sustainable renewable energy technologies. Rising health-care costs also drive the demand for less expensive, more effective and personalized ways to treat disease and monitor human health.
Part of the solution to these challenges lies within the realm of advanced manufacturing and processing technologies research. By developing new materials with improved functionalities and properties, scientists will be able to create smaller, faster and 'smarter' devices that will change our lives for the better.
On May 1 and 2, the University of Ontario Institute of Technology's School of Graduate and Postdoctoral Studies (SGPS) and Office of Research Services welcomed experts from the Énergie Matériaux Télécommunications Research Centre at the National Institute of Scientific Research (INRS-EMT), a university based in Québec City. Both organizations discussed the latest developments in advanced manufacturing and processing technologies, shared their research, and finalized a partnership agreement between the two universities.
INRS-EMT symposium presentations:
University of Ontario Institute of Technology symposium presentations:
INRS-EMT researchers also visited University of Ontario Institute of Technology research facilities including:
Advanced Materials Engineering Lab
Advanced Storage Systems and Electric Transportation (ASSET) Lab.
Clean Energy Research Lab
Electrochemical Materials Lab
PV Materials Research Lab
Surface Inorganic Chemistry Lab
Quotes:
"I look forward to this collaboration with the University of Ontario Institute of Technology. Universities often tend to favour international collaborations; however, interprovincial projects can be just as rewarding, if not more so."
- Philippe-Edwin Belanger, Director, Graduate and Postdoctoral Studies and Services, INRS
"The INRS-EMT and University of Ontario Institute of Technology symposium was a wonderful opportunity to share interests and expertise on emerging research topics related to energy production, storage and conversion and sensing devices. Our collaboration with INRS-EMT will allow both institutions to expand our collective research capacity and pursue ambitious joint research projects. Future collaborations could include enhanced graduate student experience from enriched thesis research and experiential learning opportunities."
– Langis Roy, PhD, Dean, School of Graduate and Postdoctoral Studies