Researcher Carolyn McGregor receives prestigious ORION Leadership Award
ORION celebrates entrepreneurs focused on advancing Ontario's innovation ecosystem
May 9, 2018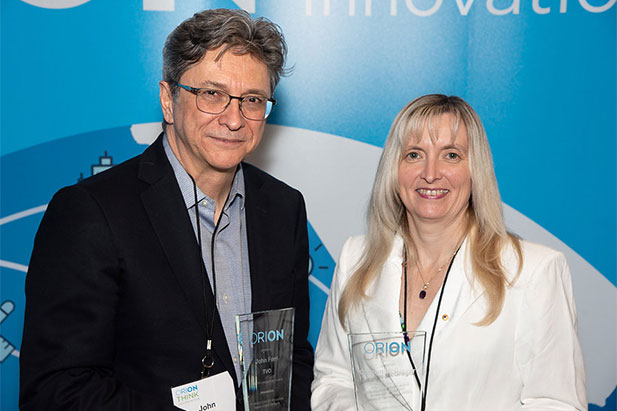 When it comes to using information technology and data analytics to improve health care, few match the expertise and achievements of Ontario Tech University researcher Carolyn McGregor, PhD.
The university's two-term Canada Research Chair in Health Informatics leads the Artemis Project: groundbreaking research that combines big data analytics, real-time 24/7 stream processing of patient data, cloud computing, temporal data mining and patient-journey modelling.
Artemis' advanced digital infrastructure leverages predictive analytics and streaming data to help physicians make better, and faster, health-care decisions. Artemis has life-saving applications for critical-care medicine, mental health, astronaut health as well as military and civilian tactical training.
Artemis has quickly evolved into a powerful global research collaboration with industry and academia partners in Canada, the United States, Russia, Australia and India. Dr. McGregor's pioneering research continues to draw the attention of health-care officials and journalists around the world.
The Faculty of Business and Information Technology Professor has won many prestigious awards, including the Order of Australia for 'significant service to science and innovation through health-care information systems'.
Dr. McGregor's most recent accolade comes from ORION (Ontario's only research and innovation network), whose high-speed fibre optic network and cloud software solutions support Artemis data collection in the neonatal intensive care units at Southlake Regional Health Centre in Newmarket and at McMaster Children's Hospital in Hamilton.
For her innovative and significant contribution to Ontario's digital economy, Dr. McGregor received ORION's Leadership Award for Higher Education at the 2018 THINK Conference in Toronto. The ORION awards celebrate advances in Ontario's innovation ecosystem.
"The reliability of ORION's network allows us to demonstrate that Artemis can operate remotely with servers outside the physical setting of a hospital," says Dr. McGregor. "In the same fashion that entertainment service Netflix is accessible from rural and remote communities, we want Artemis to be a service available to hospitals all across Ontario and Canada. Hospitals will assess real-time patient data using advanced artificial intelligence techniques. Doctors and nurses will have a game-changing new tool to help them deliver enhanced patient care."
More about Artemis research
McGregor also improves patient outcomes and reduces health-care costs through her work with Health Ecosphere, a multi-partner collaboration driving health-care technology innovation.
McGregor has received more than $11 million in research, consultancy and infrastructure funding.
Artemis development began in 2007 through Dr. McGregor's collaboration with IBM Canada.
Future international Artemis deployment plans include King Edward Memorial Hospital in Perth, Australia.
ORION facts  
ORION's annual Leadership Awards recognize outstanding achievement and innovation by those using ORION's network and cloud services. 
Award winners are determined based on nominations from ORION's user community across Ontario and evaluated by ORION's Leadership Award committee.
ORION is Ontario's only provincial research and education network. Covering 6,000 kilometres, it connects more than 100 institutions and regions, including universities, colleges, hospitals, research institutions and school boards. More than two million researchers, educators and innovators rely on ORION to share and communicate with each other, and to connect to a global grid of similar networks across Canada and worldwide.
ORION is one of 12 provincial and territorial network partners, together with CANARIE, that form Canada's National Research and Education Network. This powerful digital infrastructure connects Canadians to national and global data, tools, colleagues and classrooms that fuel the engine of innovation in today's digital economy.
Research-related activities on the ORION network directly contribute $4.4 billion annually to Ontario's GDP. 
Quotes from the award ceremony
"Ontario is on the right track thanks to the accomplishments of these Leadership Award winners, and their forward-thinking work demonstrates the value of advanced digital infrastructure to drive innovation. We are proud to play a role in supporting these innovators and fuelling the engine of research, education and innovation in Ontario."
-Alfonso Licata, President and CEO, ORION
"Making health care in Ontario more effective and efficient depends on high-calibre research that investigates our best strategies, tools and methods. ORION's network allows for big data processing and health analytics that is pivotal to improving patient care and ultimately, saving the lives of Ontarians, including some of our most vulnerable infants. Thank you for acknowledging my work and for providing such an important resource for health informatics."
-Carolyn McGregor, PhD, Professor, Ontario Tech University and Artemis Project leader
About ORION
ORION is a not-for-profit organization committed to actively supporting Ontario's researchers, educators and innovators. Since 2001, ORION has facilitated new discoveries and learning by connecting institutions and regions, enabling collaboration, forging partnerships and providing our community with the digital tools they need to make the world a better place. 
Website: orion.on.ca