University hosts leadership-focused activities for local youth
Leadership By Design participants visit campus to learn about academic programs and career opportunities
May 17, 2018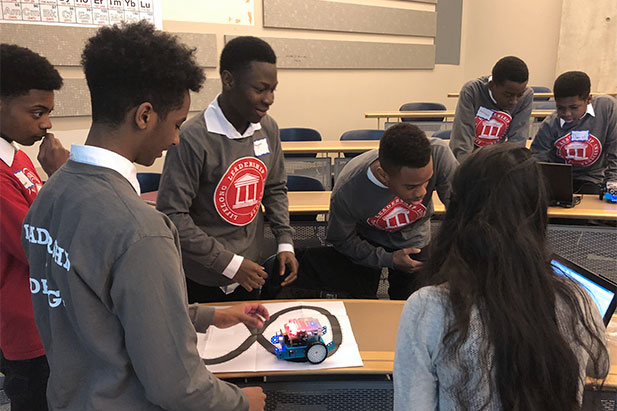 Sixty high school students from across the Greater Toronto Area, along with mentors and parents, recently stopped by the University of Ontario Institute of Technology to explore how a university education can prepare them to excel in the workplace and become the leaders of tomorrow.
The visit was part of the Leadership By Design (LBD) program, which provides youth in the African-Caribbean community with wide-ranging opportunities to develop and practise effective leadership. LBD helps them fulfil their personal and professional ambitions and provide inspiring and responsible leadership to their communities. LBD starts in Grade 10 and supports participants throughout their remaining high school and post-secondary years; it is one of the programs offered through the Toronto, Ontario-based Lifelong Leadership Institute.
The visitors learned about the university and its programs through professor-led discussions on topics related to business, the social sciences, engineering and science. The day featured a plenary talk by Rupinder Brar, PhD, Associate Teaching Professor, Faculty of Science and Associate Dean, Teaching and Learning, and a welcome from Steven Murphy, PhD, the university's President and Vice-Chancellor.
The students also participated in breakout sessions:
How to start a business: Ferdinand Jones, PhD, Associate Teaching Professor, Faculty of Business and Information Technology
Hate crime presentation: Barbara Perry, PhD, Professor, Faculty of Social Science and Humanities.
Engineering coding activity: Led by the university's Engineering Outreach office.
Quotes:
"The University of Ontario Institute of Technology was delighted to connect with these wonderful students who are poised to become future leaders in our community, to help them further discover their leadership potential and explore how our academic programs can help them achieve their goals."
- Joe Stokes, Registrar, University of Ontario Institute of Technology
"The Leadership By Design program involves amplifying the intellectual curiosity of our students and normalizing the university experience. On both counts, our visit to the University of Ontario Institute of Technology was most helpful. The university must be credited for planning such an effective program, which underscored the university's desire to build a deeper relationship with racialized communities. It could not have been better. My thanks to folks in the Registrar's office, particularly Charlie Berger and Lavorn Hunt."
- Trevor Massey, Chair, Lifelong Leadership Institute 
"I came away inspired and more informed about options available, and enjoyed the various presentations, interactions and camaraderie. I was especially impressed because my young daughter listened to and said that she enjoyed Dr. Rupinder Brar's lecture, and she is only in Grade 6."
- Parent of student participant
"I realized that coding is actually pretty interesting, and I can see how it's something that's fundamental to technology and the development of the 21st century."
- Abigail Samuels, student participant
Gallery