University supporting new era of autonomous vehicle development
May 3, 2018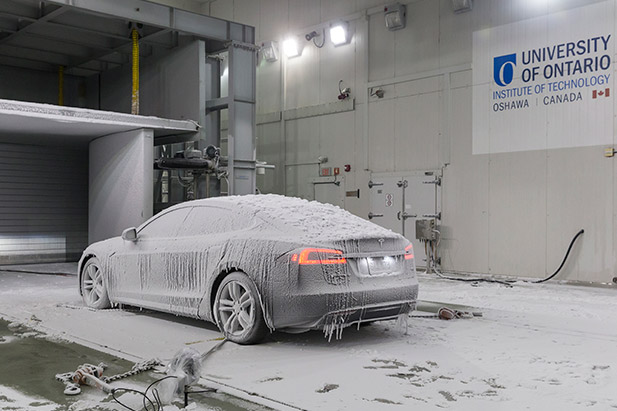 The University of Ontario Institute of Technology's leading-edge research and development (R&D) infrastructure will play a vital role in the future testing of autonomous vehicles (AV) in Ontario.
"The key to developing autonomous technologies is to connect the virtual world with the real world," says Justin Gammage, PhD, Industry Liaison Specialist, University of Ontario Institute of Technology. "For people to trust AV, the vehicles need to be tested in all kinds of environments. That's where our augmented reality environment comes into play."
Provincial economic development-driver Ontario Centres of Excellence will invest $5 million through Spark Centre to establish a Regional Technology Development Site (RTDS) for controlled-environment driverless vehicle testing inside the university's three-storey ACE Climatic Wind Tunnel. The Durham Region RTDS is one of six across Ontario. Spark Centre's partnership includes the university and Durham College.
Further support for the new research hub connected to Ontario's Autonomous Vehicle Innovation Network (AVIN) will come through a $5 million investment by a consortium of RTDS industry partners.
At ACE, vehicles of any size can be tethered onto a giant platform in the Climatic Wind Tunnel, with the tires rotating at any driving speed. ACE can replicate climate conditions observed anywhere in the world, simulating everything from the solar load of extreme desert heat to torrential downpours, freezing rain and blizzards.
The RTDS provides a close-to-home accelerated R&D environment where AV development companies and engineers will evaluate and validate prototypes.
RTDS features will include:
Data visualization and real-time analysis.
Electric vehicle fast-charging station.
Production-grade software validation and certification.
Prototyping equipment.
Virtual wireless environment.
"RTDS activity will bring demand-driven AV innovation and commercial-scale new technologies to market in the heart of the Windsor-Ottawa Automotive Innovation Corridor," says Gammage. "Ontario's evolving cluster of clean-energy companies will also integrate AV-enabled technologies with other devices we use every day in the 'Internet of Things': new connections with applications for work, travel and play."
The University of Ontario Institute of Technology is at the forefront of the kind of innovation the world needs as it confronts the challenges of environment and economics. On the same day as the RTDS announcement by Ontario Centres of Excellence, the university hosted environmentalists, research experts and industry leaders at its Futures Forum on Energy and the Environment.
Media contact
Bryan Oliver
Communications and Marketing
University of Ontario Institute of Technology
905.721.8668 ext. 6709
289.928.3653 (cell)
bryan.oliver@uoit.ca