University strengthens commitment to scholarship and discovery
New internal funding awarded to 14 researchers
June 20, 2018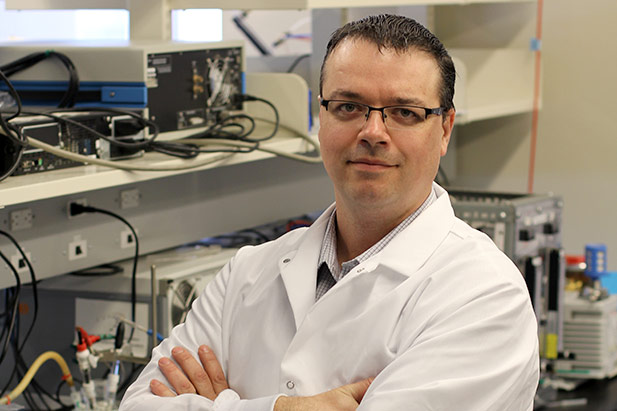 When Brad Easton, PhD and Carolyn McGregor, PhD arrived at the University of Ontario Institute of Technology more than a decade ago, Ontario's then-newest university was not just in the midst of establishing its programs and traditions, it was also laying the groundwork to become an influential research hub flanking the eastern Greater Toronto Area.
To coincide with the university's 15th anniversary, the Office of the Vice-President, Research, Innovation and International has unveiled a series of new internal research funding awards to support faculty and reward research excellence.
Dr. Easton (Electrochemical Energy Materials) and Dr. McGregor (Health Informatics) are the inaugural recipients of the Research Excellence Chairs program, designed to enable accomplished scholars to complete a major research program or project.
Dr. Easton (at the university since 2006), a materials chemist from Newfoundland and Labrador, has long focused his research on fuel cells.
"This project allows me to do fundamental scientific research with practical importance in the real world," says Dr. Easton, Professor, Faculty of Science. "I love research because it allows me to learn new things on a daily basis. It also allows me to work closely with the next generation of researchers—the graduate students, postdoctoral fellows and undergraduate students in my lab. These awards demonstrate just how important research is to the culture of the University of Ontario Institute of Technology."
Dr. McGregor arrived from Australia in 2007 as one of the university's first Canada Research Chairs (Health Informatics). Her pioneering research in real-time online 'big data' analytics and data mining has developed revolutionary applications for critical-care medicine, mental health, astronaut health and military and civilian tactical training.
"The Research Excellence Chair program represents a new phase in the university's growth," says Dr. McGregor, Professor, Faculty of Business and Information Technology. "We really are now able to show that we can compete on the international stage as a contributor to research and innovation. My students, colleagues and collaborators have enabled me to achieve a level of research that has been judged by others outside the university to be at a level of international excellence. There is no better testament than that to what we have created together at the University of Ontario Institute of Technology."
Other new internal research funding award recipients
Dr. Deborah Saucier Early Researcher Award
Honouring the former university Provost's commitment to research discovery and innovation:
Research Infrastructure Fund
Providing financial support via three application streams to tenured and tenure‐track faculty to support the purchase of research equipment, along with operating and maintenance costs.
ACE stream:

Ontario Power Generation stream:
Open category:
---
Media contact
Bryan Oliver
Communications and Marketing
Ontario Tech University
905.721.8668 ext. 6709
289.928.3653
bryan.oliver@uoit.ca