University researchers and ACE helping set a world record for wingsuit flight
Experts in Health Sciences and Engineering collaborate at the ACE Climatic Wind Tunnel
September 12, 2018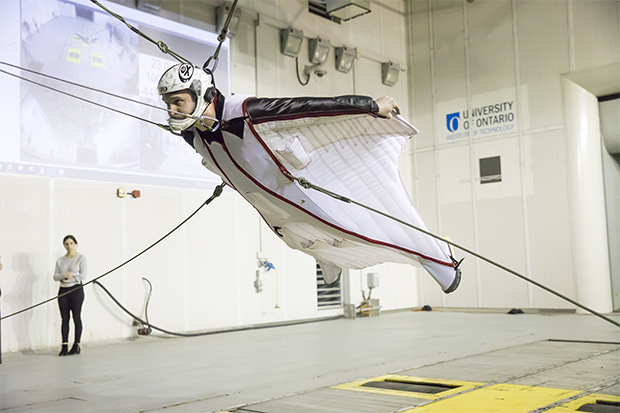 Longtime skydiver and British aerospace engineer Angelo Grubisic's goal is pretty straightforward. Grubisic simply wants to fly faster, higher and farther than any human has ever achieved.
Sometime in the next couple of years, Grubisic intends to make the highest-ever altitude jump by leaping from a plane more than 12 kilometres (40,000 feet) above the ground. In the process, he will establish the highest speed travelled in a wingsuit (as fast as 400 kilometres per hour) and set a world record for the longest wingsuit flight (more than 10 minutes).
Think that's easy? Keep in mind the stunning minus 100 Celsius wind chill values Grubisic will encounter during the jump. Take a deep breath. Take a very deep breath.
"You've got to stay conscious, you've got to stay warm, and you've got to stay alive," says Dr. Grubisic, a Lecturer in Astronautics and Advanced Propulsion at the University of Southampton in the United Kingdom. "That's quite challenging to do when you're put into the lower stratosphere. We're not made for those conditions. It's a very alien environment."
Preparing for such a daunting and historic mission (dubbed the 'Icarus Project') takes a ton of research. When you push the limits of human achievement, there aren't a lot of places where you can truly test the capabilities of the equipment you will use.
Grubisic's physiological and aerodynamic challenges brought him across the Atlantic to tap into the remarkable dynamic testing capacity of the ACE Climatic Wind Tunnel at the University of Ontario Institute of Technology. ACE assembled its team of engineers and brought in Faculty of Health Sciences research experts Heather Sprenger, PhD , Assistant Professor (Physiology) and Nick La Delfa, PhD , Assistant Professor (Human Neuromechanics)
The testing took place over three days.
Day 1
Grubisic visited the Canadian Sport Institute in Scarborough, Ontario with Dr. Sprenger. He completed a baseline fitness test and then repeated the test in a hypoxic chamber that reduces oxygen to simulate levels at higher altitudes. The data demonstrated how his physical performance will decline at extremely high altitude.
Day 2
At the Climatic Wind Tunnel, ACE personnel and Dr. La Delfa co-developed a 'free-flight fixture': a single cable running from a secure point in the wind tunnel nozzle to Grubisic's chest. Four safety cables were attached to two large steel posts, allowing Grubisic to be picked up by the wind and fly up, down and side-to-side.
This simulated test flight (at room temperature) provided vital information about the performance of the wingsuit design. Dr. La Delfa monitored Grubisic's muscle performance to better understand fatigue factors (he calculated a 30 per cent decrease in muscle performance by the end of the test).
Day 3
The second test flight in the ACE Climatic Wind Tunnel was conducted in extreme cold (chamber temperature of minus 40 Celsius; air stream 'wind chill' of minus 110 Celsius).
ACE developed a special fixture composed of an airfoil-shaped column, force balance and mounting system designed specifically for wingsuit testing. In addition to evaluating the wingsuit's aerodynamic performance, researchers evaluated Grubisic's tolerance of the extreme cold he'll encounter in the lower stratosphere during his actual jump.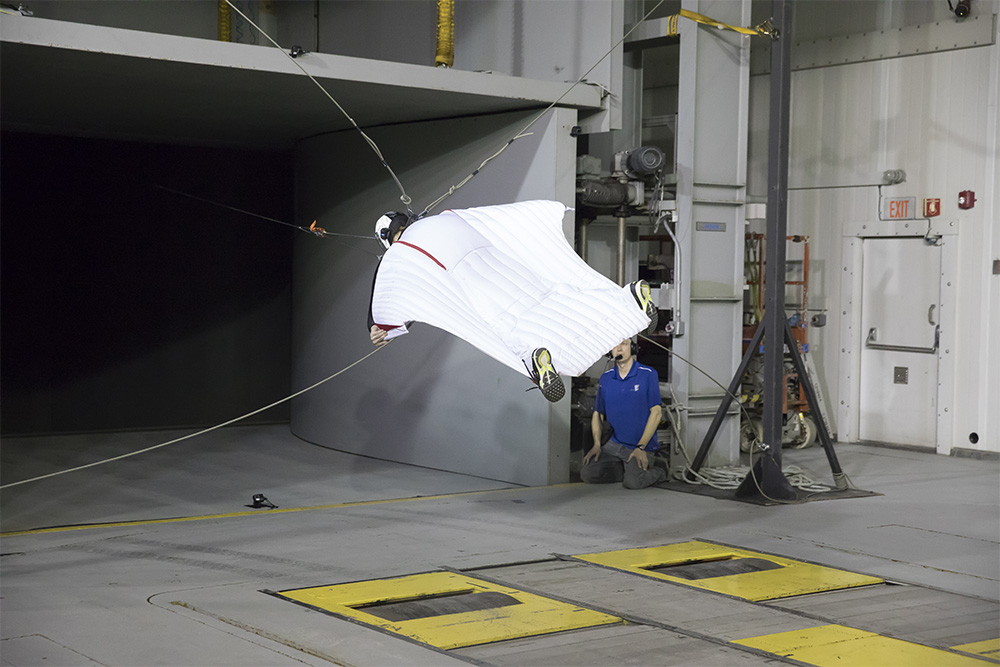 Observations
"That was like being in such a hostile environment, like putting your body into liquid nitrogen," says Grubisic. "You lose sensation in your fingers and you reach back and go for your main parachute and you can't feel anything. There's a chance that you may become unstable and unable to open your main parachute. Nobody wants to rely on the reserve chute, especially when you may be unconscious. Ultimately, how far you can push yourself in these environments is absolutely key and that's what we're doing in a safe environment here at ACE." 
Backgrounder: Human factors and apparel/equipment testing at ACE
ACE provides the tools/expertise to optimize apparel and equipment for every possible climatic environment. ACE merges the testing of equipment with physiology testing to ensure optimal user performance. Within this segment, ACE serves consumer apparel clients, Olympic athletes and emergency service personnel.
ACE links
---
Media contact
Bryan Oliver
Communications and Marketing
Ontario Tech University
905.721.8668 ext. 6709
289.928.3653
bryan.oliver@uoit.ca