Advancing the discussion on a new relationship with Canada's Indigenous Peoples
Reconciliation 'Canada's most important societal issue' says former Supreme Court Justice Frank Iacobucci
October 31, 2018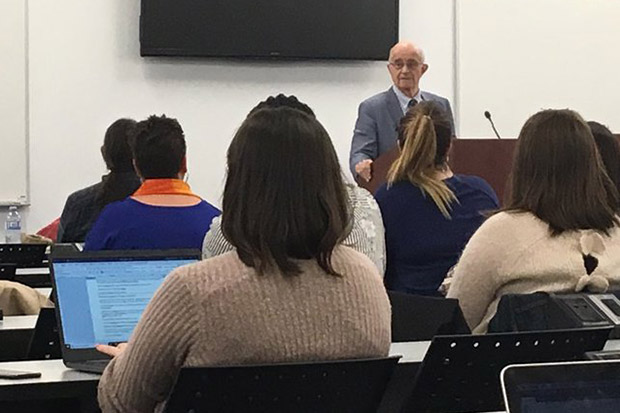 After an extensive career in public service that included 13 years as a Justice of the Supreme Court of Canada, the Honourable Frank Iacobucci has a long list of accomplishments that have helped shape modern Canadian society. Actively engaged in a wide range of causes in his retirement years, Mr. Justice Iacobucci says one issue tops his list and he wants everyone to know they can help make a difference.
"The relationship with Indigenous people is the most important societal issue facing our country," says Iacobucci, who spoke on October 23 at the university's Legal Studies Distinguished Visitor Lecture Series. "Future relationships must be based on principles and built for the long-term."
Iacobucci spoke to an engaged audience of Faculty of Social Science and Humanities students and researchers at the event presented and sponsored by the Carpenters Union Local 397. 
"Mutual respect and trust are the keys to moving forward as a country," says Iacobucci. "Positive and encouraging steps are being taken through initiatives like the Truth and Reconciliation Commission. Still, there is more to accomplish. I am hopeful the Government of Canada will join in a formal commitment to promote the economic quality of Indigenous people throughout the country."
Since retiring from the bench in 2004, Iacobucci has offered his expertise to various provincial and federal government agencies. He has led discussions related to reconciliation between Indigenous and non-Indigenous peoples in Canada, including framework agreements and the legacy of residential schools.
Iacobucci received an honorary Doctor of Laws degree from the university in June 2018.