New abilities-based symbol a conversation starter
University's parking spaces signal support for new 'Dynamic Symbol'
October 29, 2018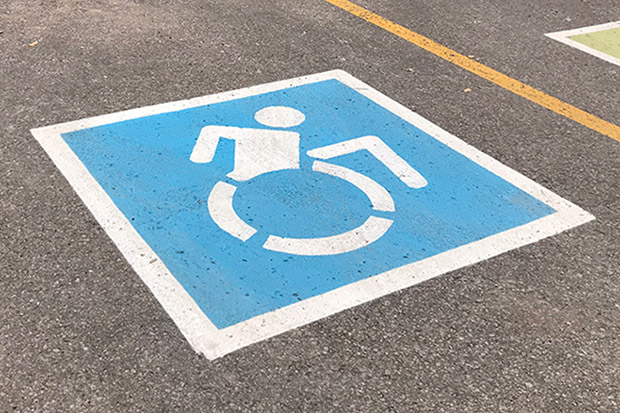 A half-century after it first appeared in public spaces and parking lots around the world, one of the most-recognized symbols of barrier-free access is now undergoing a re-think, perhaps even a major evolution.
Known historically as 'The International Symbol of Access', the iconic blue-and-white image of a person in a wheelchair was long-associated with the term 'handicap' used to describe a person with a disability. The old sign depicted a stationary person and placed emphasis on the wheelchair and disability, before the person.
In the past few years, abilities advocates have proposed implementation of an updated logo, a 'Dynamic Symbol of Access' (Dynamic Symbol) that conveys movement and illuminates the positive connotations of activity and potential.  
"Perception is everything, and it's important to recognize the old symbol reflected passivity and reinforced stereotypes about inability," says University of Ontario Institute of Technology researcher Meghann Lloyd, PhD, a tireless promoter of inclusion through movement. "The remarkable aspect of the Dynamic Symbol idea is that it has quickly gained momentum and sparked conversation, particularly at the grassroots level in the community."
Have you noticed the changes on campus? This fall, the university's Office of Campus Infrastructure and Sustainability moved forward with repainting designated parking spaces featuring the new Dynamic Symbol. The person in the new image is more defined than the one in the old image and depicts physical movement, a symbolic action emphasizing differing abilities.
"This new symbol reframes the way society views and interacts with persons with a disability," says Dr. Lloyd, Associate Professor, Faculty of Health Sciences. "The updated logo is generating important new conversations about accessibility and disability rights in Ontario."
Dr. Lloyd's influential research partners in the area, including Grandview Children's Centre (Grandview Kids) in Oshawa, say the Dynamic Symbol is a catalyst for a much-needed culture shift.
"We are excited to see the level of endorsement for the change in symbol because it establishes a vital platform for education," says Lorraine Sunstrum-Mann, CEO, Grandview Children's Centre. "While great progress has been made over the years to remove physical and cultural barriers in Ontario, we still need to be building upon society's commitment to accessibility and inclusivity."
"While the existing symbol is still legally required in certain applications in the province, there's no law restricting the new Dynamic Symbol beside it," says Dylan Itzikowitz. Co-Founder, The Forward Movement, who was struck by a car in 2016 and temporarily relied on a wheelchair for mobility. "We are delighted to see the university making this change and helping advance the conversation. Meantime, we continue to work with other private organizations to make the shift and lobby to have provincial legislation amended to not only phase in the new logo, but also have it mandated for all future use in building codes, accessible vehicles, parking spaces and school buses."
Did you know?
Ontario communities that have adopted or indicated support for the Dynamic Symbol (as of October 2018): Toronto, Mississauga, Sarnia, Stratford, Uxbridge and Owen Sound (along with several cities in other provinces).
The term 'handicap' derives from a time when people with a disability were seen as needing to be beggars, essentially holding their 'hand-in-cap' (source: ca).
---
Media contact
Bryan Oliver
Communications and Marketing
Ontario Tech University
905.721.8668 ext. 6709
289.928.3653
bryan.oliver@uoit.ca