New funding for university's expanding portfolio of game-changing research
October 10, 2018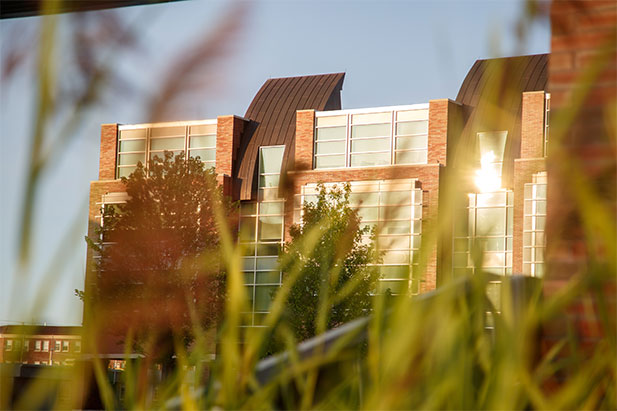 As one of Canada's newest research universities, the University of Ontario Institute of Technology continues to build a powerful culture of scientific discovery and innovation.
Nearly $2 million in new research funding will flow to the university from the Natural Sciences and Engineering Research Council of Canada (NSERC) for 17 projects across four different faculties. NSERC's Discovery Grant investments create world-firsts in knowledge at universities all across the country.
The university will also receive two Discovery Development Grants.
The university has a compelling research story to tell
Advancing award-winning, high-quality research is one of the university's hallmarks. In addition to supporting unparalleled student learning experiences and delivering outstanding teaching, professors take on today's and tomorrow's societal challenges by finding solutions and applications to meet these needs.
With the recent opening of the Software and Informatics Research Centre, the university has more than 80 specialized and modern research laboratories and facilities supporting its commitment to attracting leading scholars from across Canada and around the world.
NSERC Discovery Grant categories include both early-career researchers and established researchers.
Selected research profile snapshots
Carlos Rossa, PhD, Faculty of Engineering and Applied Science, is a first-time applicant who investigates autonomous robotic surgery. Ever since robots entered hospital operating rooms, surgery has gone through one of the greatest changes in the history of medicine.
In tele-operated surgery, a surgeon using a robotic arm operates medical tools such as needles and catheters. Dr. Rossa's research explores advances in human-machine interfaces, particularly new methods for autonomous robotic surgery and safe ultrasound-based image guidance of surgical tool use.
Potential applications include treatments for liver, prostate, kidney, pancreatic, brain, and bladder cancers, as well as cataract surgery, and localized drug and implant delivery.
Faculty of Science researcher Janice Strap, PhD received a funding renewal, the highest individual grant among this year's recipients at the university.
Dr. Strap investigates bacterial cellulose biosynthesis, an important biochemical process involved in adherence of bacteria to surfaces. She pioneers new knowledge in many areas, including microbiology, bioinformatics, genetics, materials science and more. One of her research goals is to develop new (biosynthetic) materials with unique properties for diverse applications such as new methods of fighting bacterial infections.
2018 NSERC Discovery Grant recipients
Faculty of Business and Information Technology
Stephen Marsh, PhD: Information transparency for privacy through trust
Amirali Salehi-Abari, PhD: Intelligent group decision systems and preference learning
Alvaro Uribe Quevedo, PhD: Development of a virtual reality usability framework that correlates physiological and qualitative assessment data
Miguel Vargas Martin, PhD: Enhancing authentication: Towards password memorability meters, and leveraging implicit learning for system-assigned passwords
Loutfouz Zaman, PhD: User interfaces and difference visualizations for alternatives in visual game development
Faculty of Energy Systems and Nuclear Science
Eleodor Nichita, PhD: Computational methods and tools for neutronics calculations for molten-salt nuclear reactors
Faculty of Engineering and Applied Science
Martin Agelin-Chaab, PhD: Investigation of turbulent flow separation and the development of flow control strategies for bluff bodies in ground proximity
Akramul Azim, PhD: A novel framework for design and analysis of embedded software with variable constraints
Moustafa El-Gindy, PhD: Development of an advanced research program for tire-mixed soil interaction using computational hybrid techniques
Walid Ibrahim, PhD: Integrating transportation electrification into smart distribution systems with large-scale high-power fast-charging stations
Xianke Lin, PhD: Degradation analysis, optimal design, and intelligent management of lithium-ion batteries
Marc Rosen, PhD: Trigeneration and district energy: modelling, optimization and advanced applications
Carlos Rossa, PhD: Towards collaborative and autonomous robotic minimally invasive surgery
Faculty of Science
Jeremy Bradbury, PhD: Utilizing artificial intelligence to improve the testing and debugging of concurrent software
Andrea Kirkwood, PhD: Ecological drivers of freshwater microalgal blooms across trophic gradients
Fedor Naumkin, PhD: Highly polar supramolecular systems: enhanced infrared-activity, ion-pair mediated chemistry and assembly
Janice Strap, PhD: Discovering the regulatory mechanisms involved in bacterial cellulose biosynthesis
2018 Discovery Development Grant recipients
Faculty of Engineering and Applied Science
Qusay Mahmoud, PhD: Design and development of middleware techniques for cyber-physical systems
Faculty of Science
Franco Gaspari, PhD: Physics and applications of nanostructured materials for photovoltaics and microwave electronics
Quote
"Canada supports science and our talented researchers. Today, we are delivering on our historic investment in research and in the next generation of scientists. These remarkable researchers and students we are celebrating are working to make the world a better place and to secure a brighter future for all Canadians."
-The Honourable Kirsty Duncan, Minister of Science and Sport