On the road to 100 per cent Canadian electric vehicles
University's Mohamed Youssef, PhD, collaborating with Toronto-based inMotive on enhanced EV efficiencies
October 25, 2018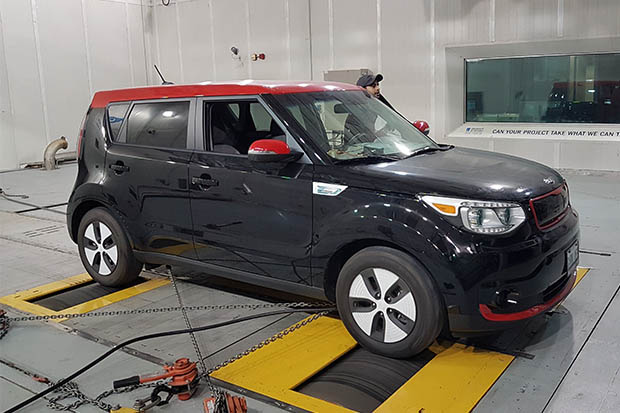 It might surprise many to know that in the earliest days of the automobile era (prior to World War I), electric vehicles (EV) outsold gasoline-powered cars. But as internal combustion engines rose in popularity due to their longer range, easier operation and lower cost, the EV took a backseat in the world of auto production.
More than a century later, environmental considerations, relative availability of hydro, and gasoline costs have led to a brand new market for EVs.
At the University of Ontario Institute of Technology, researcher Mohamed Youssef, PhD, aims to develop new EV subsystems to help make 'going electric' a popular and affordable option for motorists.
"At the core of electric vehicle research is the knowledge that consumers will be more likely to buy an EV when final products are more energy-efficient, reliable and offer longer mileage range," says Dr. Youssef, Assistant Professor, Faculty of Engineering and Applied Science (FEAS). "inMotive specializes in energy efficiency innovation, particularly through novel transmission systems. The objective of our research collaboration is to develop the first fully Canadian EV and have it market-ready by mid-2021."
The latest research effort between the university and the company is supported by a Collaborative Research and Development grant from the Natural Sciences and Engineering Research Council of Canada (NSERC). Much of the preliminary testing takes place right on campus at ACE, inside one of the world's most sophisticated and advanced climatic wind tunnels. Ultimately the testing will take advantage of the features of ACE's future Moving Ground Plane (MGP).
Following the same principle as someone exercising on a treadmill for a pre-defined session, ACE's MGP provides a pre-programmed traction-speed profile for EV testing, including adjustable inclined alignments. If the EV successfully completes the session, it is deemed to have met all market certification standards.
"We have retrofitted an existing car with state-of-the-art propulsion and new battery components," says Dr. Youssef. "Initial tests in September 2018 were very promising, with follow-up testing booked for December. Over the next three years we intend to create a fully redesigned EV with new internal components such as battery, transmission system and inverter."
Dr. Mohamed Youssef answers EV questions:
What are the strengths and weaknesses of EVs currently on the market?
EV performance is measured by price tag, mileage range and charging time. Today, all EVs (whether popularly produced by Tesla, General Motors, Kia, Lexus or Nissan) fall short on at least one of the three criteria.
Will EV costs be competitive with traditional gasoline-powered cars?
Eventually. EVs will be less expensive because they will have fewer components. EV prices will be on par with gasoline-fueled cars by 2025.
What will the distance range of EVs be?
Tata Motors in India recently produced a vehicle offering a 1,000 kilometre range for a single charge. We will beat that.
How long will charging a battery take?
Our goal is to reduce existing battery charge times by 15 per cent and expand single-charge mileage by 10 per cent. We are looking at 25 minutes of charging time for a 1,200 kilometre range.
Will the necessary infrastructure be in place to support widespread EV charging across the province?
More infrastructure is happening every day. I have seen some new convenience stores (gas stations) in Ontario with EV charging stations. Many hotels now offer one or two EV charging stations. Many outlet malls along Ontario's heavily travelled Highway 401 corridor provide EV charging stations. The university also offers charging stations at its north Oshawa and downtown Oshawa locations. The trend is promising.
Will the current pushback in some channels against clean energy endeavours stall future research?
No, this has already been put to bed. We saw in August how Tesla Motors Canada won its court case against the province to exclude the company from a grace period for EV rebates for consumers (up to $14,000 on qualifying vehicles). Many automotive companies in Ontario have already invested so much in EVs. They will leave Ontario if they cannot recoup their non-recurring costs. If EVs don't happen, that will be an even bigger problem for Ontarians.
Will business-research partnerships and new discoveries dictate future growth in the EV market?
The American EV market is evolving quickly, so all Canadians know it will consequently happen here. Like any other technology: United States and Europe first, then Canada.
ACE links
---
Media contact
Bryan Oliver
Communications and Marketing
Ontario Tech University
905.721.8668 ext. 6709
289.928.3653
bryan.oliver@uoit.ca