Thought-provoking discussions October 17 and 18 at the Regent Theatre
Author Gwynne Dyer and filmmaker David Schumacher coming to campus
October 9, 2018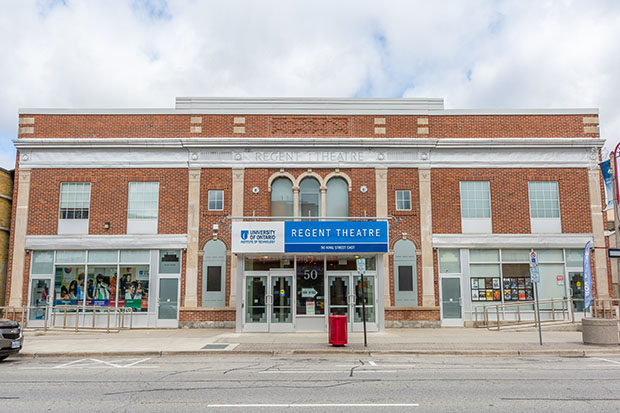 A powerful one-two punch of thought leadership is coming to the University of Ontario Institute of Technology this month on consecutive evenings at the university's Regent Theatre in downtown Oshawa.
On Wednesday, October 17, author, historian and independent journalist Gwynne Dyer returns to campus to share his perspectives on 'The Populist Revolt: Its Causes and Cure' as a guest in the Faculty of Social Science and Humanities public speaker series. The Canadian syndicated columnist will also discuss his latest book, Growing Pains: Surviving the Populist Wave.
Dyer will explore the current global culture of angry nationalism, fueled in Europe by immigration issues and in the United States by job losses. Dyer says U.S. President Donald Trump has no solution for automation, and argues more extreme populist leaders may follow him unless the anger is extinguished.
Key details:
Gwynne Dyer: The Populist Revolt, Its Causes and Cure (Dean's Lecture Series, Faculty of Social Science and Humanities)
Wednesday, October 17 from 7 to 9 p.m.
Regent Theatre, 50 King Street East, Oshawa
Free admission
The following evening ( Thursday, October 18), the Faculty of Energy Systems and Nuclear Science will present a screening of Canadian filmmaker David Schumacher's film The New Fire . The documentary explores whether nuclear engineers and young entrepreneurs could be the next 'climate heroes' and how the potential for advanced nuclear reactors may provide answers to solve the planet's need for reliable, clean and economically viable energy.
After the screening, Schumacher will take part in a 'fireside chat' discussion about the film and energy-related topics.
Key details:
The New Fire film screening and Fireside Chat
Thursday, October 18 from 5:45 to 8:30 p.m.
Regent Theatre, 50 King Street East, Oshawa
Free admission and free popcorn
Media contact
Bryan Oliver
Communications and Marketing
University of Ontario Institute of Technology
905.721.8668 ext. 6709
289.928.3653 (mobile)
bryan.oliver@uoit.ca